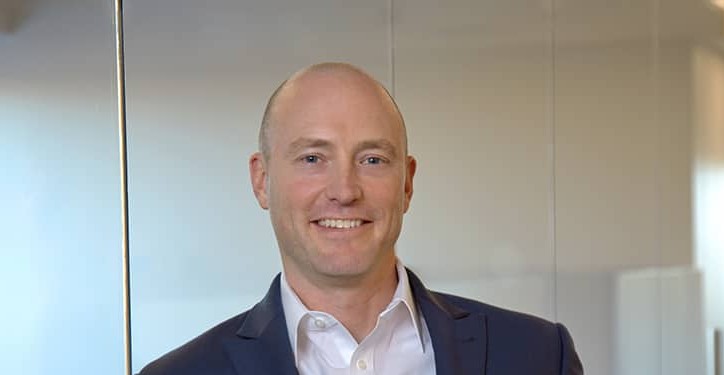 The CEO Series: Tadd Clelland, Senior Living Residences
Braintree, Mass.-based Senior Living Residences (SLR) appointed Tadd Clelland as the company's new president and CEO. Clelland joined SLR in 2005 and has served as Partner since 2007 overseeing all aspects of operations for the firm's portfolio of 17 communities across New England, valued at over $200 million.
He is poised to lead the organization forward with a plan for controlled growth in partnership with a New England-based development group and several national institutional investors. SLR anticipates expanding its portfolio significantly over the next decade, with its 18th community having opened last month.
Clelland tells Senior Living News how his lifelong career with the company will benefit both him as well as the organization in this new role while also discussing what the future holds for Senior Living Residences.
Senior Living News: How will you apply your experience as a partner in SLR of more than 15 years to your role as president and CEO? 
Tadd Clelland: In addition to the 15 years I have spent as a partner at SLR, I bring a wealth of hands-on experience from my time working in assisted living communities. Essentially, I "grew up" in this industry. My first role was as a Social Worker at an SLR community in South Boston. I have worked on the floor. I have been involved in scheduling. I have been an Executive Director. These experiences help to shape my role as partner and have uniquely prepared me for this new role as President of SLR, because they have shown me the value of being a visible and hands-on leader.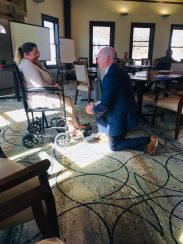 I love spending time in our communities talking to our team members and residents and listening to their stories. I make a concentrated effort to visit our communities every week. That level of visibility and connection is not common in our industry and I believe it provides a distinctive perspective on what it takes to build a successful community. This personal touch has served me very well and will continue to be a very important part of my role as President.
As partner, and still in my role as President, SLR community Executive Directors report directly to me. I have hired, trained and coached every Executive Director who has walked through our doors over the last 15 years, as I have with the vast majority of our Directors of Community Relations and our Directors of Resident Care. Being this hands-on has allowed me to get to know each of their personalities, to understand their strengths and weaknesses, and to better coach them toward achieving their professional goals.
At SLR, we have what we call our 'Right Values', the core principles that guide us, and one of those principles is "valuing associates".  That comes from a very honest place. It comes from hands-on experience. It comes from meaningful conversations with our team –  from caregivers and servers to our community directors. I truly value the dedication of each of our associates and the very important role each person plays in directly contributing to the quality of life of our seniors.
Because of my time working directly in communities, and because of the time I spend working with our management teams and getting to know the frontline associates, I understand how the strain of unfilled positions affects every role in a community and has a direct impact on morale and culture, especially at this exact moment in our industry. One of my first initiatives as President has been to focus on ensuring that SLR is showing our associates that appreciation, preserving our company culture, and actively working with our clients and JV partners to adjust wages and expand benefits in a meaningful way. In my experience, this is the most effective way to attract talent, maintain our stellar reputation and ultimately continue to grow as a company.
SLN: Could you elaborate on future expansion plans for SLR? 
TC: When speaking with our existing capital partners or potential capital partners, one of the standard questions I get asked is, "How large do you want to grow your company?" As an owner, it would be easy to fall into the trap of having the singular focus on growing wealth, thereby putting the company's culture second; but that is not who SLR is. My answer is always the same: we want slow, controlled growth so that we hold on to the core of who we are as a company.
That integrity – doing what we say we will do, being who we say that we are – is everything to me and is at the very core of who SLR is, which is why we put so much focus on our high-touch culture, and why it is so important that we maintain that high-touch nature with every new construction or acquisition. Even as CEO, I personally provide training and coaching to our associates. Bob Larkin, my partner, does as well. We both are onsite at our communities often. I am highly involved in the hiring of our community directors, especially Executive Directors, and Directors of Resident Care and Community Relations. We love to promote from within, and when we can't it is imperative to me that we hire individuals who can demonstrate that they are real people who share our values as an organization. This is non-negotiable.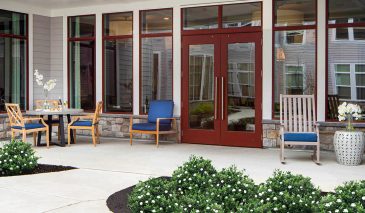 So, our growth will be slow and controlled. We will be looking to expand down the eastern seaboard through acquisition and new development. Our partners are eager to grow with us and fully support our growth strategy. There is no specific number of communities we are striving to manage; So long as we offer the quality and support our residents, families and associates deserve and expect, we and our partners can be proud of each community we operate. The financial results do follow.
SLN: How are you planning to accelerate innovation at SLR?
TC: I love this question. Innovation is another of SLR's 'Right Values' and we've been blazing trails on so many fronts since our very beginning, including the development and operation of one of the first certified assisted living communities in Massachusetts, and being the first assisted living operator in the state to offer affordable programs like GAFC, PACE, and LIHTC. But our sweet spot is with programming breakthroughs. Nearly all our programmatic innovations have come about organically, most often created by our inspired frontline associates. Our innovations are not generated in marketing meetings in an effort to put some shiny new program in a brochure, they are programs based on an identified need by an SLR associate. That is because part of our culture is to allow for creativity, imagination and advocacy for programs that contribute to the improvement of resident quality of life and the concept of discovery, both elements of our 'Right Values'.
SLR will continue to innovate, it's part of the fabric of our company. Our recent innovations over the last few years have been centered around technologies: implementing business operations technology including electronic health records systems and better systems for tracking marketing and recruitment leads (CRM and ATS), integrating our software and systems, and applying new technologies to help deliver better operational insight. We have also invested in technologies that allow us to connect with families and professionals more effectively, including text alerts and live chat functions that connect you directly to the team in the community. With regard to technology that intersects with resident life, we are looking at tools that dovetail well with our person-centered approach and are focused on enhancing our residents' experience in a meaningful and sustainable way, not at technologies that can replace our high-touch culture. Innovation at SLR is a lot like our growth strategy, slow and controlled. One of our keys to innovation is accepting the fact that not every good idea is worth doing. Sometimes saying no to an idea is as important as implementing a new program.
SLN: What are your plans to attract and retain staff at SLR communities?
TC: We hope to build on our exceptional reputation as a preferred employer through offering wages that are at the very top of our industry as well as offering a very comprehensive and affordable benefits package. The staffing crisis has highlighted the lagging wage compensation for frontline associates and I believe that as an industry it's time we step up and do what's right for the people who are the backbone of our communities.
In addition to increases in starting salaries for frontline staff, we are also taking a hard look at what we believe was already a very healthy benefits package and making the benefits we offer more broad, more meaningful and more affordable. To improve our traditional health and wellness benefits, we are increasing paid time off and employer contributions toward medical / dental insurance. To build out more attractive financial wellness benefits we are increasing our employer sponsored life insurance program, adding new retail perks, and we are taking a look at our 401(k) contributions. And because we value discovery and lifelong learning, we are improving our professional development benefit package to include additional industry-specific training and skill development opportunities, quarterly presentations from our Diversity, Equity and Inclusion Committee, as well as a new tuition reimbursement program for associates who want to advance their careers at SLR.
Because we also know the true value of getting recommendations from our existing team members, we are also increasing our staff referral bonus.
For a company of our size, we believe we are positioned well to compete against employers who are attracting our workforce away from assisted living. We will hold this course because we are seeing how it not only fills our vacant positions, but it is reducing and in some cases eliminating our reliance on agency staffing.
SLN: It's been more than a decade since SLR launched its proprietary Compass Memory Support neighborhoods. How will these communities further evolve under your leadership?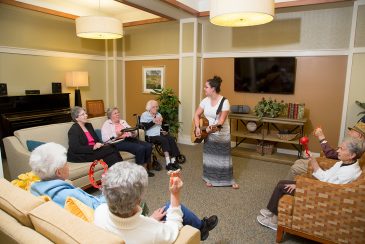 TC: With the launch of Compass Memory Support Neighborhoods in 2010, I believe SLR raised the bar across the industry, especially here in New England, around how assisted living serves and cares for individuals with Alzheimer's disease and other memory related disorders. When I first started out it felt like the industry's collective goal was to ensure the safety of these residents by having them live in a secured environment. At that time, the idea of tailoring our way of communicating, programming and even the physical environment to the needs of those residents living with cognitive decline was anemic. SLR was the first to really address these needs directly, in a non-pharmacological way. We were the first in the country to focus on the benefits nutrition can have on one's cognitive health with the implementation of our research-based, award-winning Brain Healthy Cooking Program. We were the first to offer evidence-based educational programs that teach residents with Alzheimer's disease new information – which totally went against what science says is possible. This approach not only helps to provide purpose and structure to residents' daily lives, but also combats the stigma around memory-related disorders.
The design and execution of Compass Memory Support didn't end with our launch in 2010. This is a program we are continuously improving and innovating. Our communities regularly implement new creative daily programs designed to both treat the symptoms of Alzheimer's and related dementias and to bring purpose and happiness to each day such as specific fitness classes and creative workshops. In 2016, we piloted an enhanced level of service specifically designed to create a failure-free environment for residents with Mild Cognitive Impairment (MCI) who reside in our traditional assisted living neighborhood. For many years now, we have been striving toward having each of our associates become Certified Dementia Practitioners, a program that I co-facilitate, because this is one of my passions, in an effort to emphasize the importance of how we provide services to this special group of residents. Each year we aim to improve upon these innovations, because time, technology, and experience gives us the tools to always make them better.
And just because we invest in the programs we know are working and providing meaningful improvement to residents quality of life, doesn't mean that we are doing so at the expense of considering what to do next. A growing area of interest to us is the development of a program that specializes in the unique needs of those with Parkinson's disease. SLR has several communities that have been piloting programs and assessing their efficacy in the non-pharmacological treatment of the symptoms of Parkinson's. These are programs that would serve both our residents and those living with Parkinson's in the greater community we serve, as well as their caregivers. We hope to continue to advance this program by offering it in more SLR communities. There are one million Americans living with Parkinson's disease and 96% of those individuals are over the age of 50. These numbers are expected to significantly increase in the coming years as the Baby Boomer generation starts to hit their late seventies and eighties, as age is the leading risk factor. Our goal is to become a preferred assisted living provider offering programs designed specifically to treat the symptoms of Parkinsons.
Credit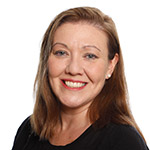 Kerry Medina
Senior Editor
Kerry Medina is Senior Editor of Senior Living News, parent company of Senior Community Forum. With a journalism degree from NYU, she has more than 20 years of experience as a journalist and content marketing professional, continuously focusing on B2B marketing and communications. In her current role, Kerry covers the senior living sector for SeniorLivingNews.com and SeniorCommunityForum.com and also moderates executive-led panel discussions at industry leading events.