Jefferson's Ferry's Fallon Named Long Island Employee of Distinction by LeadingAge New York
Katharine Fallon, Life Enrichment Program Manager at Jefferson's Ferry Life Plan Community in South Setauket, was recently recognized for the high quality of her work by the New York Chapter of LeadingAge New York. Fallon was awarded its prestigious Employee of Distinction Award for Long Island.  LeadingAge is the professional organization of the senior service industry.  An awards ceremony was held at Jefferson's Ferry in Fallon's honor Wednesday, October 27.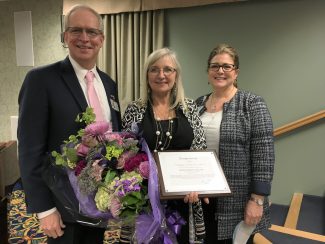 The Employee of Distinction Award recognizes the extraordinary dedication of staff members who are not upper management.  Honorees are selected based on how their actions have positively affected the quality of life of residents, or has significantly improved a service or program and demonstrated a strong commitment to their workplace.  This most recent award was based in large part of the contributions the employee made in the daily lives of residents during Covid.
"Kathy Fallon has been an exemplary employee from her first day on the job, and the work that she's done over the last 18 months has not only been phenomenal—it's been indispensable to the wellbeing of our residents," explained Jefferson's Ferry President and CEO Bob Caulfield.
"Most importantly," Caulfield continued, "Kathy has been instrumental in maintaining two of the most important aspects of life at Jefferson's Ferry– resident engagement and socialization.  In large part because of Kathy's efforts, we maintained and even added programs that kept residents physically fit, connected, and eagerly looking forward to what each day had to offer in spite of Covid-related restrictions. She got people outside, moving, and involved and socializing with neighbors and staff in spite of and in accordance with the required health and safety measures."
"Kathy's creativity and can-do spirit was a lifeline for the residents' well-being during a time when socialization was minimal," added Vice President of Resident Life Linda Kolakowski.  "Kathy put together outstanding programming that was provided via our in-house television channel.  The programming was well- rounded, diverse, relevant, and current while  focusing on mind, body, spirit, cultural and education."
Fallon's community activities are many and diverse.  She serves on the Executive Board as Recording Secretary for the Greater Patchogue Chamber of Commerce, and launched its Young Professionals group. She is also chair of the organization's networking and nonprofit committees.   She also serves as vice president of the Patchogue-Medford Youth & Community Services board.   Fallon's many service awards include Member of the Year 2019, Brookhaven Chambers of Commerce Coalition; Woman of the Year 2019, The Long Island Advance; and Top 50 Women in Business, 2020, Long Island Business News.