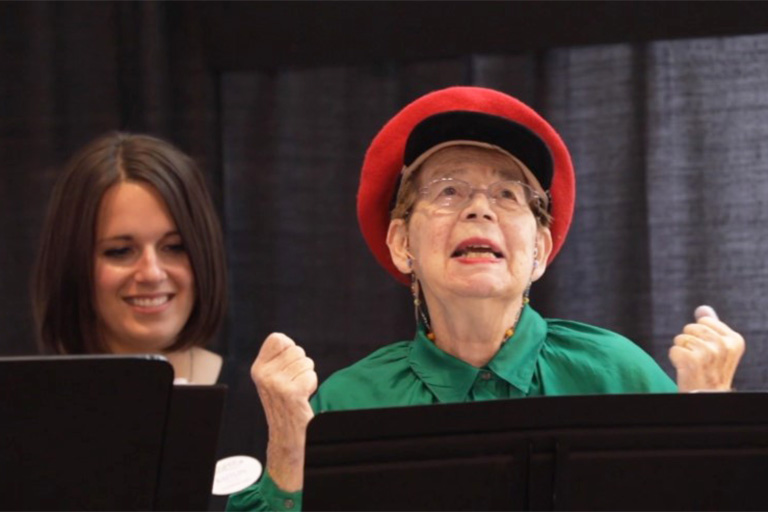 By joe | February 27, 2019
Juniper Communities has been known as a thought leader and innovator within the senior housing industry since its inception. However, as the organization became known as one willing to take risks, the number of projects it has become involved in has exploded.
"As we celebrated our 30th anniversary last year, we realized it was time to formalize our involvement in the work we were doing and give a name to our efforts," said Lynne Katzmann, founder and CEO of Juniper Communities. "We knew we wanted to track what we've done and think through what types of innovations would be most beneficial to share with others."
Now the Bloomfield, NJ-based national owner-operator of senior housing has founded the Juniper Institute for Research and Innovation, headed by Tsultrim Datso, Ph.D. She is also co-creator and facilitator of the REfresh Mindfulness Program for Healthy Aging and Wellness at Work in Juniper Senior Housing Communities currently rolling out in Juniper's 24 communities in New Jersey, Pennsylvania, Florida and Colorado.
Datso's initial focus with the Institute will be to compile and share best practices from the work Juniper has done over the past several years—in particular, looking at care integration and how Juniper is integrating service-enriched housing with chronic care management and medicine.
Juniper made headlines with its Connect4Life model, which provides on-site comprehensive therapy, primary care, pharmacy and lab services, integrated with other services using a "high-tech/high-touch" communications protocol to provide individualized, coordinated care to its residents. But integration at Juniper goes further than Connect4Life.
One of the many "cool" things Katzmann is excited about is being part of what is a national movement for dementia-friendly communities, which she says dovetails nicely with what Juniper considers its watchword for 2019—integration.
Juniper's work falls in so many areas, especially with dementia and memory impairment—everything from technology work to dementia-friendly community training to a partnership with Music Theater International, the largest owner of rights to Broadway musicals, which enabled integration of a very supportive theater community in the State College area and Juniper residents who are the actors in plays they produce.
"The point is that we've been doing work not just in care or technology, not just one part. But we really believe when you take that initiative—although it's nice to be recognized, and it makes us proud and re-energizes the whole team—we have a responsibility to share what we've learned," Katzmann said. "That's what we'll do through this Institute, and you'll see a number of white papers."
Juniper's first effort at integration was on the technology side, seven to eight years ago, when they decided to adopt electronic health records. But they knew it would only be useful if it had an integrated operating platform partner able to connect clinical, financial and marketing.
"It's important to run off an integrated platform, and we're a very robust user for a senior living organization," said Katzmann. Juniper uses PointClickCare's General Ledger and mobile app systems, does quality management and secure messaging through them, and this year is looking to integrate payroll and all of its HR platform so that data can be used.
"We call it data informed management—linking our clinical information and our staffing together so we can better understand the resources we expend to the outcomes we achieve," said Katzmann.
She also talks about integration in terms of resident experience. When people are looking at moving into a community, one of the most important things is wanting to know they fit in and can see themselves in that environment. Younger people coming into older buildings may have thought, "This doesn't make sense for me. I don't belong here."
Juniper realized people don't want to be segregated. They developed programs with the community and development programs that allow residents to spend more time outside, so there's a deeper integration between the greater community, in their own community, integration with intergenerational groups, and different programming inside and outside.
"Our dementia-friendly community work is focused on training, how to recognize and engage those with dementia so they can be accepted into the everyday life of the community," Katzmann explained. "We first train our first responders. We've gone out and talked to restaurant and business owners and tell them we want to train their staffs. Then we go in, provide the training, and they get a sticker for their window that says they've been trained and people are welcome there."
In addition to integration of technology, of care, and with community and programming, the fourth area of Juniper's efforts is environmental—the physical plant.
"We hired Perkins Eastman to help our thinking around spaces of the future, environments for healthy living. We had a series of workshops internally and brought in experts from culinary, bio design and technology to inform our thinking and came up with some directions," Katzmann explained. "Spaces need to be open and flexible, and they have to work not just for our residents but for our families and older adults, people with disabilities, and people who live and work inside our buildings and in the community at large."
Juniper wants to focus on building art centers that can serve as gallery space, theater in its communities, and is looking at creating spaces that encourage fitness and good health such as space for massage therapists, clinics or exercise education—all part of Juniper's notion of a center for healthy living and redesigning their spaces so they feel like places that are more lively community spaces.
Katzmann thinks it's great that some operators can build a new building in downtown areas with retail space and entertainment space, as well as residential units. But for those who are not building new buildings, she believes there are solutions. They involve money and time but really a mindshift.
"Ageism and memory loss are isms—whether it's about gender or race—but we also have a phobia about aging and memory loss," she concluded. "Our dementia-friendly community training, community spaces, theater programs—we can all play. It's good for the community, good for everyone."
Katzmann will be speaking on innovation at HealthTAC East 2019 to be held at the Grand Hyatt Baha Mar in Nassau, Bahamas, April 7-9.