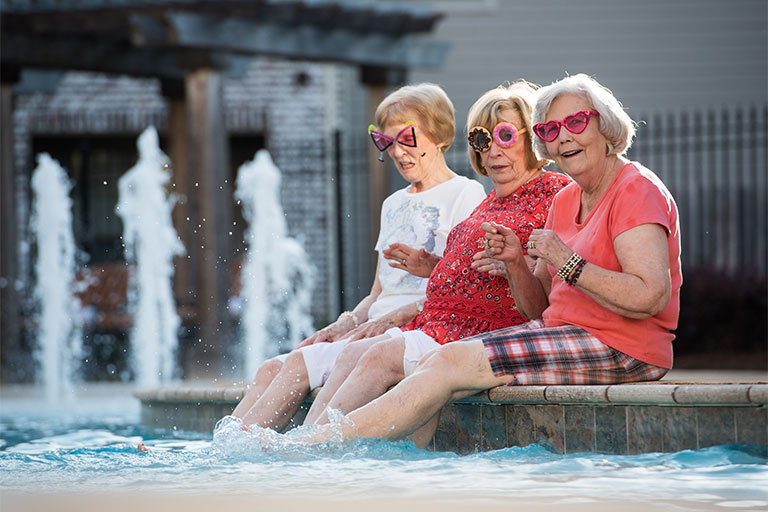 By joe | June 5, 2019
The summer months can bring challenges to senior living communities, older adults and their caregivers—but also a lot of fun.
"As the heat starts to rise, hydration and keeping residents active with a balance of indoor and outdoor activities can be a challenge," said Julie Walker, director of dementia care for Affinity Living Group, the largest senior housing provider in southeastern U.S. with more than 100 communities.
"We work hard to maintain a comfortable temperature and increase the availability of 'Hydration Stations' throughout our communities, where residents have convenient access to ice cold water and other beverages at all times.
"We also use this opportunity for residents to reminisce about the summer days they sat on their porches and drank lemonade or played in the creek as a child, and we offer popsicles, lemonades, and ice cream socials to relive some of those memories," Walker added. "We also spend more time in the early mornings and late evenings rocking on the porches, and in the hottest parts of the day we spend time inside with games, crafting and other engaging indoor activities.
"With the dog days of summer seemingly already here, SRI Management makes modifications at its communities to create a relaxing, invigorating, summer vacation ambiance for residents. Our community executive directors and residents alike love the summer months," said Shelley Kaiser, COO, SRI Management, a senior living management company with more than 25 communities throughout the Southeast.
"There is a feeling reminiscent of summer vacation memories with the longer days of bright blue sky and warm weather beckoning us to enjoy the mornings and early evenings. Our community teams take full advantage, planning excursions to local ice cream parlors, coordinating happy hours on the verandas and, a resident favorite—classic summer cookouts with ice cold lemonade and watermelon for dessert.
"Hydration is a key factor for resident health throughout the summer," Kaiser added. "Our chefs roll out our summer menus with fruit and salad plates as a mainstay and lighter fare options. Throughout the day, our communities offer cold melon, popsicles and fruit-infused waters to entice everyone to get their fluid intake in a fun, delicious way.
"Recreation options move indoors during the heat of the afternoons. We may start with early morning croquet and bocce ball in our courtyards, but once the sun is high, our communities offer a variety of engaging indoor recreation options—contests, painting lessons and cooking demonstrations."
Tammy Marshall, chief experience officer, Thrive Senior Living, said, "We're in the southeast, so right away that brings out heat and weather and the challenges around that. If you think about it from a resident perspective, everyone wants to play, but we're also thinking about how to support people's personal lives, children off school, etc.
"The beauty of summer is that you can be out later with three to four more hours of light. When you're thinking about programming, we're always thinking about what we can do outside—more time outdoors and more Vitamin D. Not a lot of sexiness to it. It's raw things that we think about. There are layers," added Marshall.
"The biggest challenge is the heat. When the heat index gets too high, we have to move inside, but before the heat hits full blast we have family picnics—one of the specialties residents enjoy in the summer," said Tuesday Murphy, Oaks engagement specialist at Thrive at Frederica on St. Simons Island, GA, one of the communities Thrive Senior Living operates in eight southern and eastern states and the D.C. metro area. "The residents make centerpieces, set tables, help with condiments and get ready to enjoy their visiting grandchildren."
Murphy said because many of the residents had horses growing up, they enjoy trips to the stables at the north end of the island.
"Life is very different on an island, very busy in summer with a lot of things going on because it's a busy tourist area—12 miles of happiness. We can always find something to do, and we just incorporate whatever we can get in," Murphy added. "Sometimes we take residents in the early morning, there are live bands, sometimes weddings. Last year we took residents on a dolphin cruise through the Golden Isles along the coast."