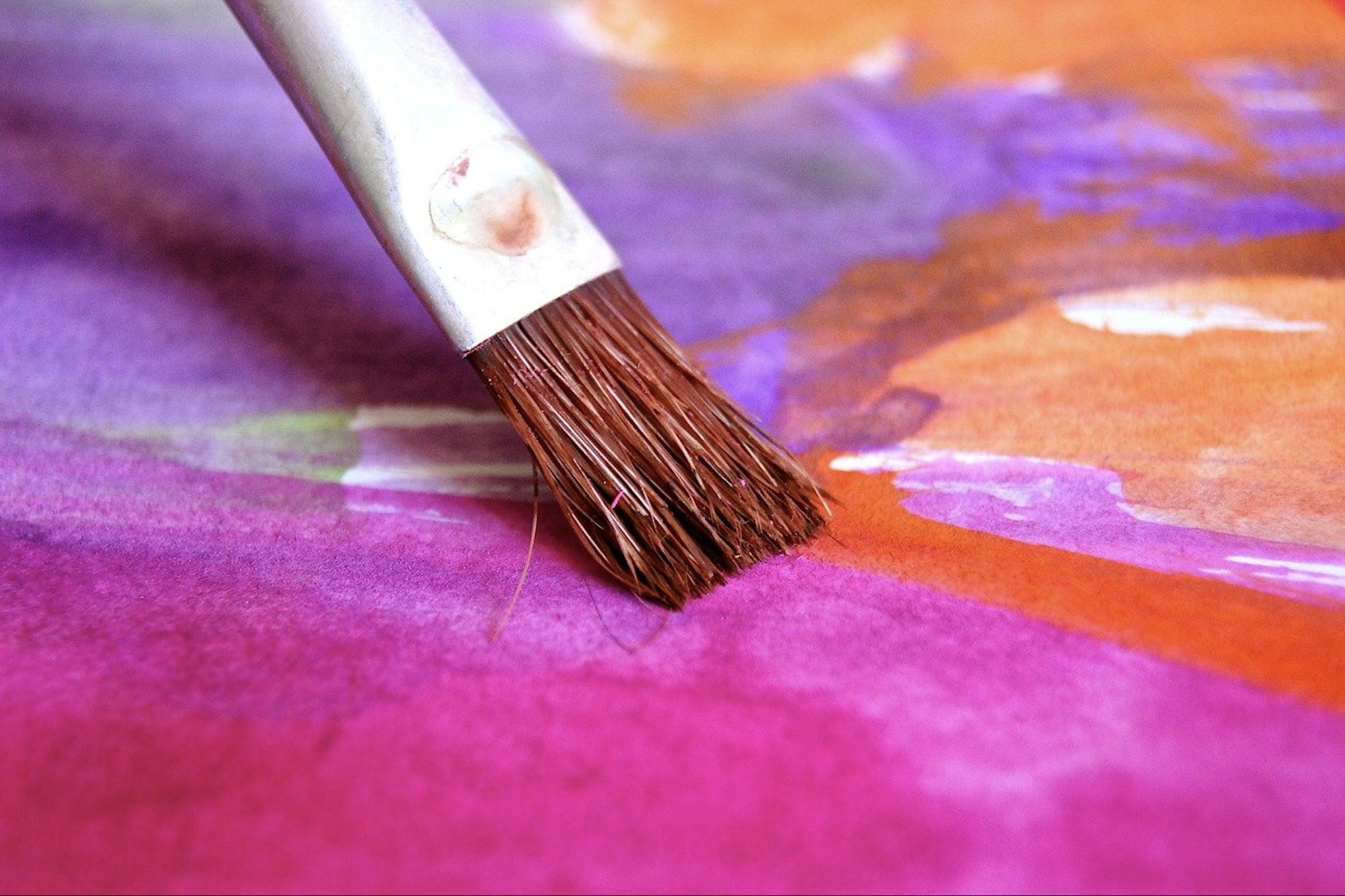 By Kerry | January 10, 2022
Leveraging the arts as a form of resident engagement in senior living communities is not new. But last May, graduate art therapy student Carina Fuller at Lesley University in Cambridge, Mass. argued in her capstone theses "Engagement with the Non-Traditional: Exploring Unique Art Making Processes with Residents of an Assisted Living Community that participating in the creative process can have a plentitude of benefits to residents of senior living communities, including those who are recently moved in.
Fuller also argued that arts programming for these older adults can also benefit from incorporating non-traditional materials that go beyond the pencils, markers and pastels that are traditionally used. Her theses includes a case study of Brookine, Mass.' Goddard House Assisted Living, part of Senior Living Residences, and its partnership with Opening Minds through Art (OMA), the award-winning, intergenerational art making program for people with Alzheimer's disease and other forms of neurocognitive disorders and the mixed media group that Fuller created as part of the partnership.
The outcomes are worth the read. But in the theses' abstract, Fuller importantly notes that "current services, care facilities, community knowledge and trained professionals cannot keep up with the high demand for geriatric care," underscoring an understated point of the paper: professionals outside of the realm of senior living, such as art therapist, have the potential to contribute to the health and well-being of older adults.
The good news is that there are some communities who have placed a premium on arts as a form of resident engagement, zeroing in on the talents of staff who have experience working in the arts as well as their own resident talent. Here are just a few examples.
Theater Performances 
Wellness Assistant Darryle Guzman came out of retirement to launch the "Act Your Age" theater group at The Good Samaritan Society – Cedar Lake Village community in Olathe, Kansas. With 37 years of experience as an instructor of vocal music and theater performances at a California Christian school, Guzman told Sanford Health news that "compared to a school, 'it's not much different. People are people whether they're 13 or 93.'"
Guzman was certainly proven right when 94-year-old resident Carl Kruse took on the role of Rumpelstiltskin this past August. But Kruse had already performed in several of the troupe's plays, telling Sanford Health news that "the nice thing about being retired, you do what you want to do."
While the theater group has given residents like Kruse a forum to have new experiences, it's also given 88-year-old resident Joyce Archer the opportunity to continue her passion for acting, which she's been involved in since she was a child.
Archer explained that joining the performance group has left her feeling like she's accomplished something. Guzman noted that residents leave with lots of endorphins, lots of energy and feeling good about what they've done and feeling good about being with each other. "I really think it's a feel-good class," he said to Sanford Health news. The Good Samaritan Society formed an affiliation with Sanford Health in 2019.
Poetry
Sunshine Retirement Living provides a wide range of activities to nurture the minds, bodies and spirits of each of its valued residents at its 40+ communities. While the company's Life Enrichment Directors develop full and enriching activities of calendars geared for their specific communities, Sunshine Retirement Living also creates and implements activities and programs that span all communities.
One example is Sunshine's Annual Poetry Contest. Residents of all proficiency levels are invited to pick up a pen and dive into their own individual life experiences to put to paper an original work of art that can be shared both within their local community as well as communities across the Sunshine Retirement community network.
Participants benefit from the mental stimulation and social aspect that comes from healthy expression and competition. According to Lauren Dubay, Wellness Director at Sunshine Retirement Living, "What we have found over the years is that even our most novice poets are embracing a new talent they didn't realize they had and along the way are making new friends who share a common interest. And our Life Enrichment Directors who implement the program on the local level appreciate the support of our corporate team to connect residents across the country in a new or lifelong passion."
Winning selections are published in an online format, and the top winners often receive recognition in their local media. In fact, a local Arkansas news channel featured two residents of Hot Springs; Country Club Village Retirement Community and their respective poems during a Zoom segment dedicated exclusively to them.
The 2021 winner was Carol Hall from Sunshine's Deer Park Retirement Community in Novato, California.
Painting
In 2017, retired art professor Allan Norris began offering painting classes to his fellow residents at a resident at The Glenwood Community in Marietta, Ohio, part of United Church Homes. To date, approximately 40 residents have been regularly attending his classes, with Norris attesting students who had tried their hands at painting previously now do so even in their free time outside of class.
The community provides Norris with the space, allotted time and supplies for his thrice monthly art classes as well as the annual art shows that he has at the independent and assisted living community.
This past fall, Norris told UCH's Spirit Magazine that his motivation to teach these classes was "to bring art out in people who never really thought they could." Now that goal has evolved to hopefully teach other types of painting classes in the future in addition to sculpture.