Personnel
LeadingAge PA Welcomes New Senior VP and Government Affairs Chief
January 13, 2022
LeadingAge PA announced today that Charles "Chuck" Quinnan will join the team as senior vice president and chief of government affairs. Quinnan will succeed Anne Henry and assume responsibilities on Jan. 31, in coordination with Henry's planned retirement.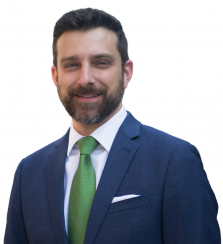 Quinnan comes to LeadingAge PA after serving as the associate state director for advocacy and outreach at AARP Pennsylvania, and previously held positions as the director of intergovernmental affairs and executive director of the Pennsylvania Long-Term Care Council with the PA Department of Aging. He thrives in relationship building and problem-solving to advance mission and vision, which will be a great asset as he leads the government affairs team.
"I am so pleased that Chuck will be joining the staff of LAPA," said Henry. "I've had the privilege of working with him for many years in various positions, and he has a broad knowledge of long-term care and very strong leadership skills."
"It's an honor to join LeadingAge PA and continue the important advocacy work on behalf of our esteemed members," said Quinnan. "While these are unprecedented times, the challenges confronting senior services are not new. I look forward to working with our dedicated team to ensure our members are best positioned to care for and support the older adults they serve."
Quinnan received a bachelor's degree in public policy from Penn State, and attended the Hubert H. Humphrey School of Public Affairs, as well as the Legislative Staff Management Institute through the National Conference of State Legislatures.