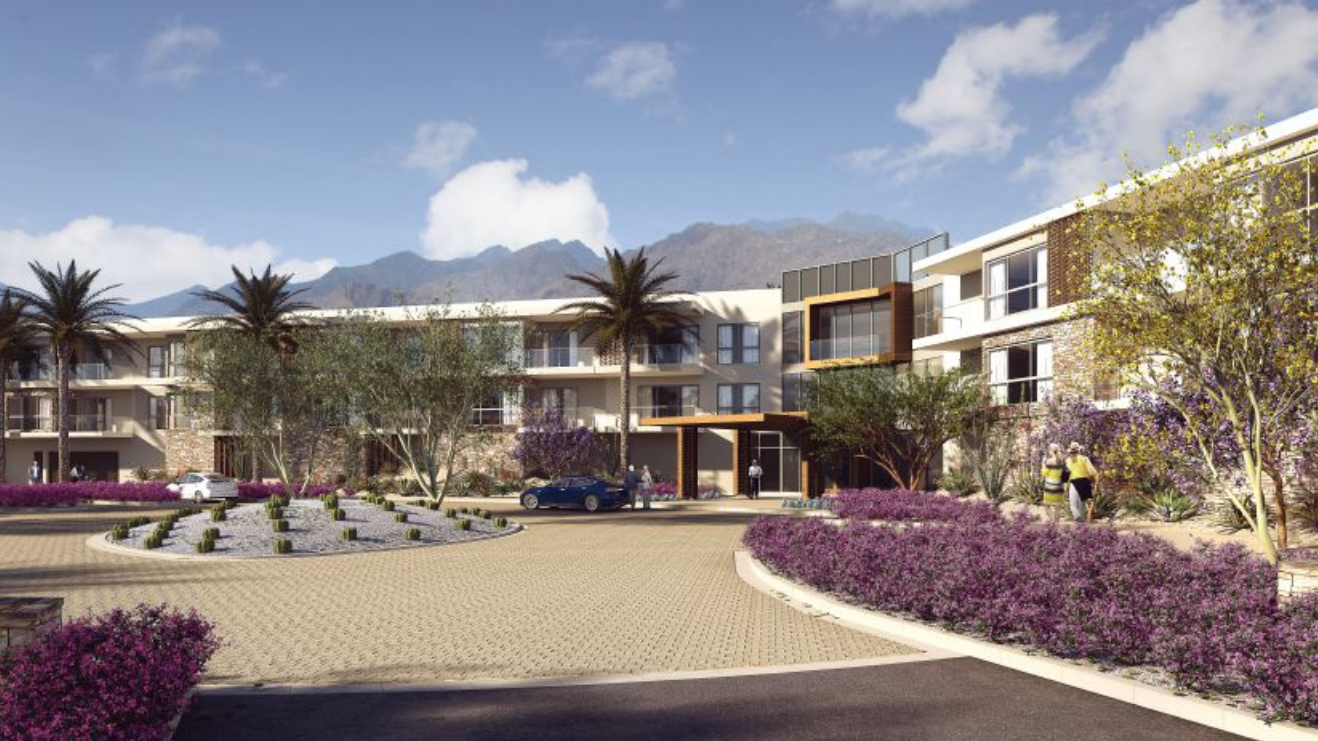 By Caroline Chan | July 15, 2022
It goes without saying that senior living communities aren't just a collection of buildings and residences; they are truly communities where seniors should feel safe, included and accepted, and where they can be cared for and encouraged to thrive during this stage of life.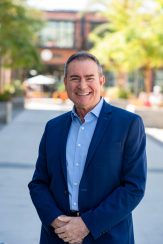 "I have made significant efforts over the years (alongside many of my allied peers who deserve acknowledgement) to integrate LGBTQ+ seniors into the lifestyle of traditional senior communities," said Ernie Shaffer, president of Living Out Palm Springs. "Unfortunately, homophobia still exists among other residents and staff members. As a result, I have watched LGBTQ+ seniors retreat back into the closet, causing isolation and a grim outlook for what should have been the golden years of their life."
And that's where the development (it's not completed yet) of Living Out Palm Springs comes in.
"Living Out Palm Springs is the brainchild—or better described as the 'heartchild'—of Loren Ostrow and Paul Alanis," said Shaffer. "Loren is a highly respected leader and philanthropist in the LGBTQ+ community, and the visionary behind Living Out."
They purposefully chose the location of Palm Springs, California, to build this senior living community. "Over the years, LGBTQ+ Americans have been drawn to areas of the country known for acceptance of our community—and Palm Springs is definitely among them," Shaffer said. "With estimates showing 40–50% of residents identifying as LGBTQ+, Palm Springs is the perfect place to build a community within a community."
Shaffer continued on. "Living Out Palm Springs was conceptualized, is purpose built and will be operated by members of the LGBTQ+ community or their allies," he said. The idea is "to create a safe, supportive and enriching environment for LGBTQ+ seniors."
Additionally, Ostrow realized that many LGBTQ+ seniors have needs and expectations that are different than those of other seniors, and there are very few senior living communities across the country that understand those needs and expectations.
"So Living Out Palm Springs now provides an attractive living option not previously available for consideration," said Shaffer. "Our mission at Living Out Palm Springs is to ensure these remarkable and trailblazing seniors have the opportunity to live authentically and without fear, to be accepted for whom they truly are as individuals and feel secure in knowing there is finally an active retirement living option built especially for them."
In addition to the type of residents at Living Out, there will be some other factors that are designed to set it apart from traditional senior living communities.
For example: the dining experience. "We firmly believe that Living Out Palm Springs will redefine the standard for fine dining in active senior communities," said Shaffer. "Living Out Palm Springs will showcase a unique and innovative resident dining experience that extends well beyond the scope of what is offered in a typical 55+ or independent living retirement community. Our restaurant, bar and various casual dining venues—including poolside cabana service and a 24-hour self-service café—will be operated by nationally-renowned chefs and restaurateurs."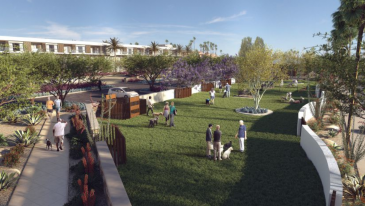 Shaffer also pointed out the services that will be offered to pet owners, including pet grooming, day care, boarding and concierge services like pet training. "[It] reflects our desire to make pets feel as safe and happy as their owners," he explained.
However, overall, the community will be similar to other high-end senior living communities. "There is the attention to detail in its design and construction, its aesthetic appeal, the array of amenities and services that will make living at Living Out feel like a vacation, and a staff that is in tune with their needs."
Shaffer expressed that there's a lot of positive "buzz" around the development of Living Out. Case in point: Even though Living Out won't be opening until Spring 2023, they've already received over 100 reservation requests, and over 500 requests for more information about the community.
"And this [excitement] is happening not just within the local LGBTQ+ community, but [also in] other parts of the country where Palm Springs is already viewed as a prestigious and very desirable retirement destination," he said.
Additionally, a number of local LGBTQ+ leaders have shown their support for Living Out by attending various milestone events (like the groundbreaking), as well as participating in interviews.
"All in all, the LGBTQ+ community appears to be embracing us, and we anticipate the project to be a great success," Shaffer said. "The best part of living (or working) at Living Out Palm Springs will be the sense of community experienced by all who are a part of this amazing adventure."