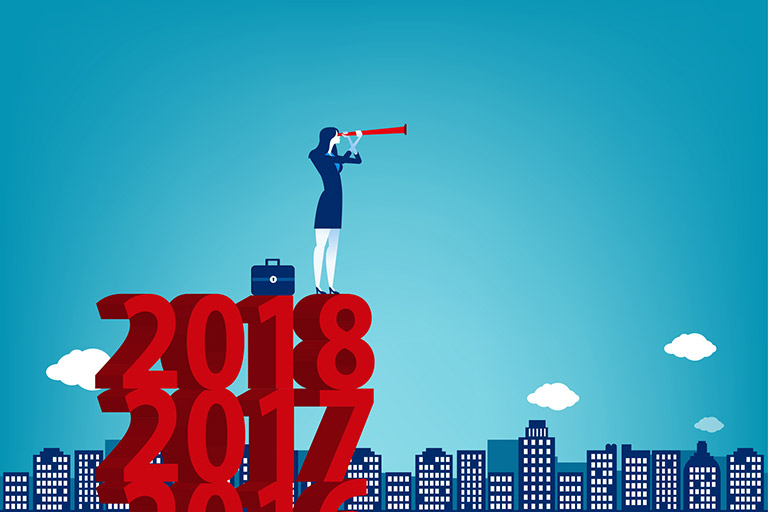 By joe | January 18, 2018
As we start the new year, many senior living providers are reporting new communities, renovations, innovations and how technology is helping to improve the experience for residents, staff and families. Meanwhile, they remain focused on their organizations' core values, integrating new talent and continuing cultures of excellence.
Senior Living News recently asked a number of senior living providers to answer either one or both of the following questions: What would you consider your organization's most important accomplishments of 2017? What would you most like to accomplish in 2018?
Watercrest Senior Living Group
2017 was a foundational year for Watercrest Senior Living Group, reaching the five-year mark with profitability, having developed and opened four new communities. We welcomed accomplished COO Debra Gardner Hussey to our executive team, exemplifying our focus on acquiring and developing top talent as we create a culture of excellence from which to grow.
2018 promises to be a banner year for Watercrest with 15 communities under development, four of which will open this year with eight more commencing construction. Realizing our southeastern market expansion goals of four to six new communities per year, our sights are set on establishing ourselves as a best-in-class developer, operator and employer in senior living. —Marc Vorkapich, Principal and CEO, Watercrest Senior Living Group
Covenant Retirement Communities
Perhaps one of the least talked about topics in nonprofit senior living is governance and board development. In the upcoming year, this is one area that will continue to receive significant attention within Covenant Retirement Communities (CRC).
A highly functional board requires trusting and transparent relationships between executive staff, board members and resident representatives. Strong relationships coupled with an educated understanding of senior living can only be a benefit to the entire organization as board members learn how the board functions and the transparency in the exchange of information. The stronger our relationship is with our board members, the easier our trust and mutual respect will develop.
Bottom line, CRC will continue to build board efficiency, effectiveness and productivity through our relationships. At the end of the meeting, it is important that every board member or participant feel their time spent was valuable and impactful. —Terri Cunliffe, President and CEO, Covenant Retirement Communities
Benchmark Senior Living
In 2017, the entire Benchmark team came together, acting as one as never before to celebrate the completion of our first 20 years and the beginning of our company's next chapter. Together, we achieved meaningful successes in advancing resident and family advocacy and reducing manager turnover.
And in a year when The Boston Globe recognized us as one of only 10 companies to be listed as a Top Place to Work for 10 consecutive years, we added five communities to our Northeast lineup, bringing our community total to 56 and our associate count to over 6,000.
We are prouder than ever of our dedicated associates and leaders, who continue building ever-stronger connections with one another and with our residents and family members. These important human connections further differentiate the Benchmark experience from the rest of the crowd. Congratulations to our team! Our future has never been brighter! —Tom Grape, Chairman and CEO, Benchmark Senior Living
Maplewood Senior Living
Looking back on 2017, the most important accomplishment would be the launch of Maplewood's newest lifestyle brand for urban markets, Inspir, which will open its first location in 2019 in NYC. Expanding into an urban environment has a unique set of circumstances that accompany the development/construction, from licensing and regulatory to labor.
The operation, design and planning for a vertical model are completely different from our suburban residences and required a careful, deliberate approach to planning from a location/design standpoint. Our goal was to create a modern senior living residence with unique architectural elements that depict a natural environment with best-in-class services and amenities delivered, all within a convenient urban landscape.
As we begin 2018, our focus remains on our core values. Improving the lives of seniors by continuing to enhance the Maplewood resident experience. 2018 will bring opportunities to do such, including through use of innovation and technology. —Gregory Smith, CEO, Maplewood Senior Living
Blake Management Company
In 2017 Blake Management Group (BMG) continued a growth strategy focused on staffing to our pipeline of communities live and under development, as well as transforming our key operational processes under new leadership. We transitioned our COO successfully and collaboratively, while also investing in central support leaders in care, sales, dining, new development and back office. We added new leaders, IT systems, quality assurance programs, and initiatives to elevate care and dining.
One program I have lead personally is advancing our tradition of "heart and hustle," as we call it internally. We work hard each day to get better and instill a sense of psychological safety in making mistakes to learn from them as a team, then combine these leadership and associate goals with a focus of process improvement. To us, this heart and hustle attitude "changing senior living" means more professionalization, more personalization, more hospitality, more resident and family experience steps, more having fun.
In 2018 our hyper-growth will continue with an estimated six new teams. Now more than ever we must have people, processes and technology evolving as we think about what a 50-community company looks like. We talk each day about being the best senior living operator in the world. We have these beautiful assets with best-in-industry amenities, the talent, right approach and structure, so now it is all about performance management and culture. —Jeremy Cole, CEO, Blake Management Company