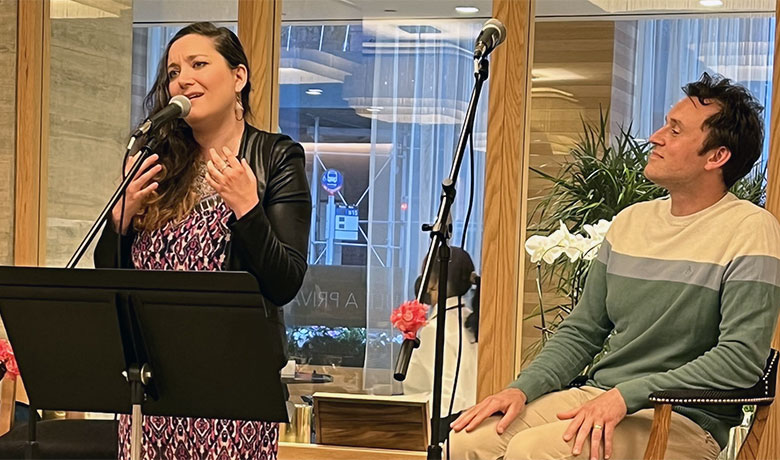 By Caroline Chan | August 12, 2022
Senior living companies and communities often put a lot of time and thought into their resident programming—after all, those activities play a big role in their residents' day-to-day lives. Inspīr Carnegie Hill, located in Manhattan's Upper East Side, certainly takes that responsibility seriously when it comes to curating their event programming.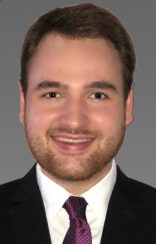 "Our philosophy of vibrant, intentional living echoes loudly throughout all [of] our program offerings," said Evan Rossi, director of resident experience. "Whether it is art and music, movement and mobility or taking time to laugh, life at Inspīr Carnegie Hill keeps our residents engaged and vital."
He then went on to explain the process.
"We began by envisioning what would constitute a vibrant lifestyle, then we decided upon nine core elements that would run throughout our programming," said Rossi. The core elements are engagement, purpose, movement and mobility, art and music, belonging, family, brain health, nature and laughter.
"We later identified the best partners to deliver those experiences, by finding programs to suit the Inspīr philosophy and mission," Rossi continued.
They also considered what these activities would look like at all three of Inspīr Carnegie Hill's care levels—assisted living, enhanced care and memory care. As such, a big goal of this programming was to make sure that there's something for everyone.
"From culinary demonstrations and wine tastings to professional performances, political debates, and exercise and wellness classes—whether offered in-house or outside our doorstep—there is always something going on," Rossi said.
And some of these performances have included Broadway stars. "Our Broadway series included introductions and performances by Broadway stars Laurel Harris, most recently in Jagged Little Pill, and Rob Marnell from Tina: The Tina Turner Musical," Rossi explained.
Harris has also been in other well-known Broadway shows like Wicked, Evita, In Transit and Beautiful: The Carole King Musical; Marnell was also in Beautiful: The Carole King Musical and Gettin' the Band Back Together.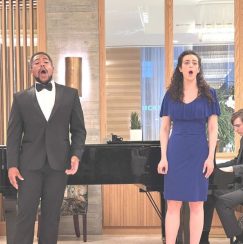 "Residents were given the option to enjoy dinner and a show…as they watched Broadway-level performances, with the fine dining offered at our formal 1802 restaurant," Rossi said. "And seeing the positive response from our residents, we continued the series as we welcomed American tenor Terrence Chin-Loy and coloratura soprano Emily Misch."
Inspīr Carnegie Hill also recently hosted a series of political talks and forums, which started a couple of months ago in mid-June. Wilfredo "Wil" López visited first, representing the 68th district for the New York State Assembly. Then, Senator Liz Krueger stopped by for a state Senate forum. And most recently, Inspīr Carnegie Hill hosted the NY-12 candidate forum, with Congressional candidates Representative Carolyn Maloney and Representative Jerry Nadler.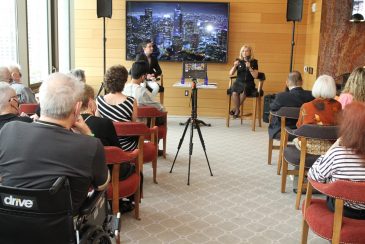 "We launched a three-part political series as part of our approach to furthering education with resident-facilitated teaching, as well as keeping the residents engaged in their neighborhood," Rossi explained. "The forum opened the floor to discuss pressing matters facing our country, including the Supreme Court's recent decisions, protecting democracy and restoring public trust. The politicians addressed a variety of questions from our residents, many of whom have spent time volunteering for political campaigns."
Inspīr Carnegie Hill also offers residents monthly trips into the city, where they get to explore new sights and attractions in NYC. "We like to help our residents continue to explore the city they love," said Rossi. "Our 'On the Town Experiences' embrace our core element of belonging, where the goal is to keep our residents connected through community-based partnerships in addition to cultural programming and outings."
They've visited museums and galleries (like the MET and the New Museum), landmarks and more.
And they're always open to any ideas that residents might have for fun activities and clubs. As Rossi pointed out, Inspīr Carnegie Hill's only been open for about a year and a half. "We are always open to new opportunities and suggestions from our residents," he said. "We have many upcoming plans for new events, and we would love to hear more from our residents."
For example, one of their residents that had a "lengthy theater career" and appeared in both Law & Order and Six Degrees of Separation started a film club that hosts regular screenings in Inspīr Carnegie Hill's theater. "I love seeing residents continue to pursue their passions or take on a new interest," Rossi said.
After all, that's part of the purpose of these activities and programming.
"It was our goal to ensure our residents live life with intention through creative experiences and opportunities for connection," said Rossi. "It is an honor to be able to support older adults looking to continue their vibrant lifestyles here in New York City, in addition to learning about their unique backgrounds and helping them continue to live their best lives."