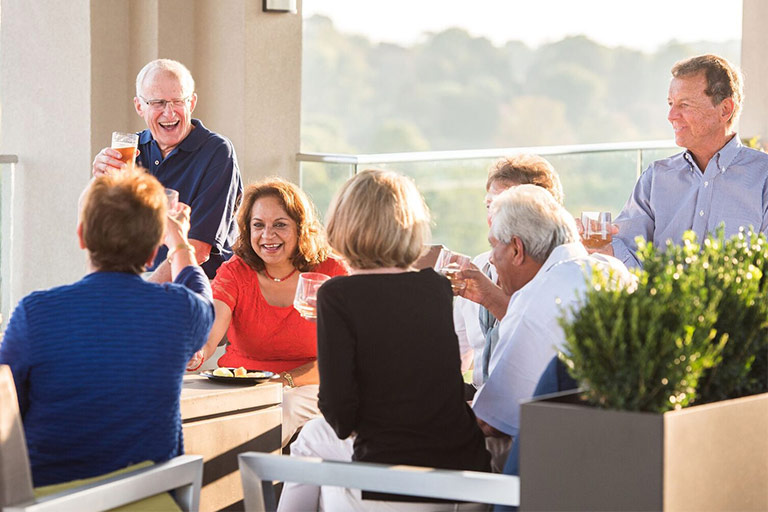 By joe | October 17, 2018
If you can't beat 'em, join 'em. Few places in the nation, if any, can claim as many retirement communities in one geographic area as Lancaster County, PA, which has been dubbed the "Garden Spot of America." The city of Lancaster, PA, topped the latest U.S. News & World Report list of the 2019 Best Places to Retire in the United States out last week, surpassing its No. 2 spot on last year's U.S. News list.
For years, leaders at the County's retirement communities interacted at local and statewide meetings, then began meeting to discuss issues they shared—everything from pet policies to lawn ornaments. In 2011, they hosted a joint open house.
That collaboration has grown to currently include 18 Lancaster non-profit retirement communities, and they'll all participate in the eighth annual Explore Retirement Living Open House on Saturday, Oct. 20, from 10 a.m. to 4 p.m.
The group has also developed a year-round website—ExploreRetirementLiving.org—suggested by the communities' CEOs to serve both local and out-of-town retirees. The Open House home page links to a page for each of the 18 communities, as well as to Lancaster newspaper's LNP Senior Living Open House story which offers highlights at each community, all with expansions or renovations—recent, planned or underway.
"'Coop-atition'—short for cooperative competition—is a term sometimes used to describe the annual fall open house and the Explore Retirement Living collaborative effort of the 18 Lancaster non-profit retirement communities," said Larry Guengerich, director of organizational communications/church relations at Landis Communities.
The group also has partnered with Discover Lancaster, a private, non-profit membership organization that is the official Destination Marketing Organization for Lancaster County, focused on generating the $2.64 billion in economic impact that tourism brings to the area annually.
"Together, we're marketing and sharing not just our own retirement communities but the region as a destination and the retirement lifestyle," said Guengerich.
The free joint Open House, similar to the popular new home tours, allows visitors—often with their families—to go by choice from one community to the next with no reservations. One of the websites suggests choosing a number of the communities and planning a day trip to bike between them because of their close proximity to each other.
One of two retirement communities in the County accredited by CARF-CCAC, Landis Homes, an affiliate of Landis Communities, will be showing an apartment, hybrid home and cottage home during the Open House. The other, Homestead Village, Inc., will offer self-guided tours starting at The Bachman Center.
Continuing Care Retirement Communities are a distinct type of senior living community that offers multiple care options at one location. Willow Valley Communities is the only exclusively (Type A) Lifecare community on the tour, meaning its residents are entitled to supportive care, should it ever be needed, without a change to their monthly fee. Willow Valley will be showing a variety of residences, The Clubhouse and events venue Chautauqua Hall.
The upcoming Open House is not meant for in-depth personal interviews, but to see different kinds of senior housing, gather information, meet residents and ask questions. Many of the communities may offer a sampling of their food and refreshments. Visitors can then schedule fol­low-up appointments at communities of interest after the event for a more personalized visit and information about the amenities and differences between the communities.
Situated in south central Pennsylvania, some of the largest metropolitan markets on the East Coast are right next door to Lancaster County, with 50 percent of the country's population now living within 500 miles of Lancaster County.
U.S. News analyzed 125 metro areas in the United States to find the Best Places to Live based on quality of life and the job market in each metro area, as well as the value of living there and people's desire to live there. Lancaster ranked #32 with "a balance between natural and commercial spaces that residents appreciate," a mix of "farmers, families, college students and young professionals" and something for everyone "from close-knit church communities to the indie coffee shop scene."
"Besides those who lived in the region, raised a family and no longer want to care for a large home, Lancaster has become a mecca for many professionals who have finished their careers or whose grandchildren ended up in Lancaster, and they wanted to be close to them—people from Dallas, New York, all over the country," said Guengerich. "Lancaster is only 160 miles from New York City, and half that distance from Philadelphia and Baltimore. Lancaster's train station is one of the busiest on the East Coast."
This week also saw the adoption of a resolution of the Council of the City of Lancaster supporting initiatives and opportunities to engage in the World Health Organization Age-Friendly Cities and Communities Network of municipalities encouraging and prompting public policies supporting healthy aging.
By 2040 the Lancaster County Planning Commission expects the population over age 85 to double and the number of people over age 65 to go from 14% to 22% of the total population. Despite its reputation as a retirement haven, Lancaster is the fourth youngest county in the state. U.S. News reported a median age of 38.5 in Lancaster, PA.
"The county's relative youth is a good indicator of its economic vibrancy and bodes well for its future," said Victor DeSantis, Millersville University's dean/associate provost for civic and community engagement, in a LNP/Lancaster Online 2015 story.
"I think this is a great place to live and work, and you could see why other younger folks would be attracted to this region," DeSantis said.