Communities
Lyngblomsten Welcomes First Residents to New Continuum-of-Care Community
October 24, 2023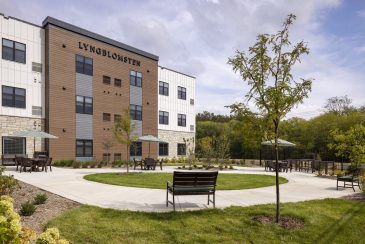 ST. PAUL, MN — Lyngblomsten, a Minnesota nonprofit senior services organization, has announced the opening of continuum-of-care community Lyngblomsten at Lino Lakes in Lino Lakes, 20 miles north of St. Paul. More than 1,200 people attended the recent public grand opening celebration for what is Lyngblomsten's first continuum-of-care campus constructed since 1912.
Lyngblomsten at Lino Lakes' 16 acres are home to 20 detached rental townhomes and a multi-level senior living building that includes 96 independent-living apartments, 35 assisted-living apartments, and 17 memory-care suites. A second phase will add a skilled-nursing wing.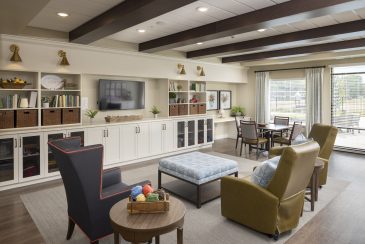 "We are thrilled to welcome residents to the Lino Lakes campus and carry forward our ministry of providing them with compassionate care and innovative services," said Lyngblomsten President/CEO Jeff Heinecke in a press release. "This new community will transform the future of senior living and allow us to preserve and enhance the quality of life of our residents."
"The City of Lino Lakes is proud to see the result of Lyngblomsten's extraordinary team's hard work in bringing transformative care to citizens in our community," said Lino Lakes Mayor Rob Rafferty. "I am confident this new campus will serve our senior population well and enhance their quality of life for many years to come."
Lyngblomsten at Lino Lakes residents have on-campus access to a warm water pool and fitness center, three restaurants, a game room with golf simulator, art studio, chapel/multipurpose room, theatre, and more.
The project's design was led by Wold Architects and Engineers, a Saint Paul-based architectural and engineering firm with senior living design expertise. Grand Real Estate Advisors served as development advisor, with Weis Builders as construction manager for the project and Dane Allen Homes overseeing the construction of the townhomes.
Incorporated in 1906, Lyngblomsten is a Christian nonprofit organization enhancing the quality of life for older adults of all faiths and cultures through its healthcare and housing facilities, and its community-based outreach programs.