Miami Jewish Health and McDowell Housing Partners Break Ground on Douglas Gardens Residences
Pembroke Pines, FL — Miami Jewish Health (MJH), a nonprofit provider of healthcare and living options for aging adults, and real estate investment and development firm McDowell Housing Partners have broken ground on Douglas Gardens Residences.
The groundbreaking ceremony celebrated what will be the largest affordable living development for seniors in Broward County, one of the most unaffordable places to live in America; nearly 62% of renter households in the county are categorized as cost-burdened, and seniors are one of the most affected demographics.
The $137 million development will deliver an updated mixed-income community, successfully merging health care and housing. Douglas Gardens Residences are being built on the current 25-acre Miami Jewish Health Douglas Gardens North Campus. Douglas Gardens Residences will feature 410 fully ADA-accessible studio, one-bedroom, and two-bedroom units offered at moderate and market-rate prices for residents 62 years of age and older.
"Everybody needs access to housing and healthcare," said Jeffery P. Freimark, President/CEO of Miami Jewish Health. "Seniors who live on fixed incomes especially need affordable housing, and Douglas Gardens Residences will deliver an attainable housing option integrated with comprehensive healthcare services for Broward County elders."
On the site, MJH and McDowell have also planned a 15,500-square-foot medical facility that will offer an adult day health center under MJH's Program of All-Inclusive Care for the Elderly, Florida PACE Centers. Florida PACE Centers have been providing comprehensive medical and social services to Medicare/Medicaid eligible elderly for 20 years.
"After years of relationship building, development, design and preconstruction work to make this deal happen, we couldn't be more excited to have broken ground," said Chris Shear, Chief Operating Officer and project partner of McDowell. "Douglas Gardens is another one of our many Low-Income Housing Tax Credit (LIHTC) developments that will help to alleviate the affordable housing crisis here in Broward County for those who are among the most affected."
Douglas Gardens Residences is slated for completion in late 2024.
Credit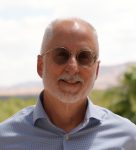 Jim Nelson
Editor
Jim Nelson is the Editor at Senior Living News, an online trade publication featuring curated news and exclusive feature stories on changes, trends, and thought leaders in the senior living industry. He has been a writer and editor for 30+ years, including several years as an editor and managing editor. Jim covers the senior living sector for SeniorLivingNews.com, distributes its e-newsletter, and moderates panel discussions for the company's HEALTHTAC events.