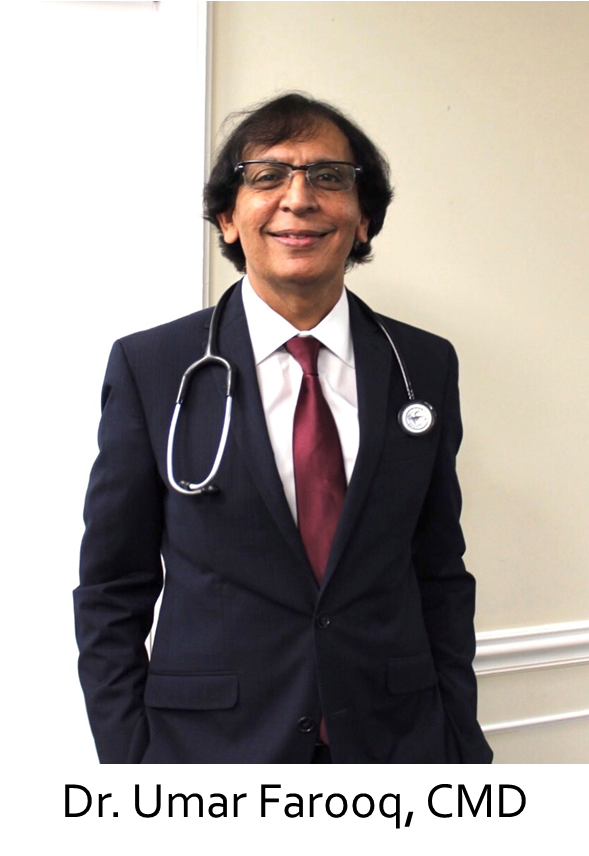 Communities
Personnel
Roosevelt Rehabilitation & Healthcare Center Names Dr. Umar Farooq as Medical Director
September 10, 2020
PHILADELPHIA, – 
Roosevelt Rehabilitation & Healthcare Center 
in northeast Philadelphia has named Dr. Umar Farooq, CMD, as its new medical director. The 240-bed skilled nursing facility provides post-hospital care, short-term rehab and long-term residential care.
A respected physician and certified medical director for skilled nursing facilities, Dr. Farooq is board certified in internal medicine and medical acupuncture. He is the owner, CEO and medical director of Bensalem, Pa.-based Knights Medical Associates (KMA), a private internal medical and primary care medical practice, which incorporates a holistic approach to health.
"Roosevelt is pleased to have Dr. Farooq lead the team as its new medical director,"  said Danielle Koons, regional sales manager at Marquis Health Services, which provides nursing home consulting services for the facility. "Dr. Farooq is well respected throughout the region for his medical expertise, and he also has extensive experience serving in a medical director capacity."
The appointment coincides with a multi-million-dollar repositioning at Roosevelt, which is introducing new programming and physical plant upgrades. Together, the Roosevelt operational team and Marquis are developing the facility's specialty healthcare offerings in partnership with the region's leading healthcare providers – with immediate plans to enhance Roosevelt's dedicated onsite dialysis services. Marquis is spearheading the renovation work, creating a modern, home-like environment for patients and staff. This includes the addition of a state-of-the-art therapy gym, updates to a significant portion of patient rooms and common spaces, including a second-story patio, and upgraded mechanical systems.
"I am thrilled to join the highly skilled team at Roosevelt Rehabilitation & Healthcare Center at this transformational phase," said Dr. Farooq. "Everyone there is dedicated to going above and beyond in terms of maintaining clinical excellence and providing exceptional patient care. I look forward to leading our efforts in meeting the needs of the Philadelphia community."
Dr. Farooq is a Diplomate in internal medicine with professional accolades including honors as a "Top Doctor" by Philadelphia Magazine in 2018, 2019 and 2020, as well as a "Top Doctor" by Castle Connolly, consecutively for the past eight years. He earned his degree in medicine and surgery from Rawalpindi Medical College in Pakistan and completed residencies in internal medicine at Lutheran Medical Center in Cleveland, Ohio, and Abington Memorial Hospital in Abington, Pa. In addition, Dr. Farooq served as a Fellow in pulmonary medicine at the Graduate Hospital in Philadelphia.
Dr. Farooq is a Member of the American Medical Directors Association, American College of Physicians and American Academy of Medical Acupuncture. Active in the community, he serves as chairman of Reaching & Empowering Communities of Philadelphia and as a PA Councilor of the Association of Physicians of Pakistani Descent of North America. Recently, Dr. Farooq has been appointment by the Bucks County Commissioners to chair the soon-to-be-announced New Americans Advisory Commission. The role of the commission is to foster interracial and interethnic communication between first- and second-generation Americans, and guide new immigrants in the county to the path of success.
Roosevelt Rehabilitation & Healthcare Center is located at 7800 Bustleton Avenue, situated on nearly two acres in the Lexington Park neighborhood; the skilled nursing facility is less than a five-minute drive from Nazareth Hospital. Based in Brick, N.J., Marquis Health Services is a highly skilled and vision-driven nursing home consulting company currently supporting Mid-Atlantic and New England facilities totaling nearly 4,500 skilled nursing and assisted living beds.