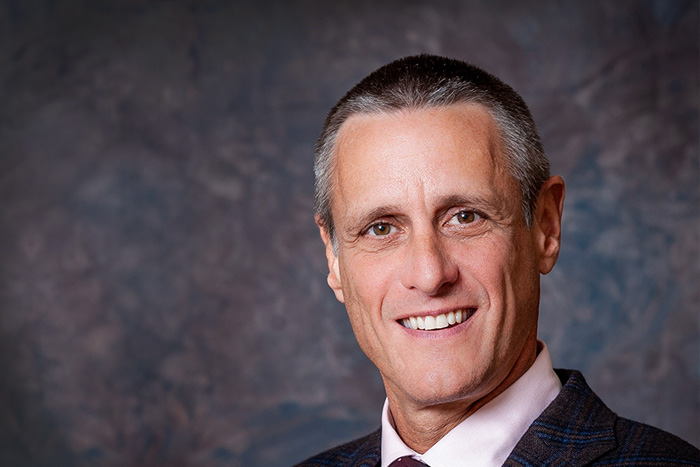 By Kerry | March 1, 2022
When Chris Keysor, president and CEO of the senior living community Lenbrook announced major expansion plans in December 2018, the company had recently acquired a four-acre parcel of land adjacent to its Atlanta campus. The Covid-19 pandemic wasn't on anyone's radar. Fast forward to October 2021 and the $108 million expansion was unveiled, on time, on budget and on the cusp of Lenbrook's 40th anniversary.
Yet, the community has been as affected by the pandemic as other senior living communities throughout the country. But Keysor, Lenbrook's Board of Directors and the Lenbrook team rose to the challenge, continuing –even now—their work to keep residents and staff safe while welcoming new residents to the Kingsboro at Lenbrook expansion.
Here, Keysor shares details on how Lenbrook took on the challenges it faced during the pandemic while still looking to the organization's future.
Senior Living News: What prompted the expansion, particularly given that the Lenbrook community is coming upon its 40th anniversary?
Chris Keysor: Through our history, Lenbrook has grown, adapted, and changed to lead the market. Lenbrook, founded in 1983, is Atlanta's first purpose-built not-for-profit Life Plan Community, and it provides a variety of premier senior living options in the heart of Atlanta's Buckhead neighborhood, including independent living, assisted living and skilled nursing. Our campus has grown to more than 1 million sq. ft. and Lenbrook is currently home to almost 500 residents.
As early as 2008, and based on market demand, Lenbrook started to envision the continued diversification of our home offerings to complement our existing Brookhaven and Lenox Towers.  Given Lenbrook's location on the desirable Peachtree corridor, the assembly of land became a deliberate initiative over the coming years.  Thanks to our financing partners, Truist bank along with HJ Sims as our long-time investment banker, we were able to finance the project as the COVID-19 pandemic was looming. In October 2021, we completed Kingsboro at Lenbrook on time and on budget – with high quality construction and superior finishes.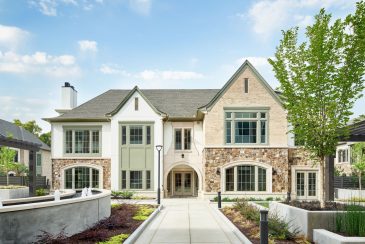 Kingsboro at Lenbrook is located on a four-acre parcel adjacent to Lenbrook's established campus and adds 53 independent living residences called Flats and Villas along with new additions to our amenity spaces. The Flats are comprised of 39 homes in a five-story building with a variety of floor plans ranging from 1,700-3,200 square feet, while the Villas consist of three buildings, each with four to five residences between 2,000 and 3,200 square feet.
Lenbrook has always had a long-range vision and clear financial goals in place.  From the beginning and as a not-for-profit, Lenbrook's financial stability has been critical to our mission and vision, and is further backed by our CARF accreditation and our Fitch investment-grade Rating.
Our clear goals and sound strategic planning helped us successfully navigate the 2008-2010 global financial crisis. And while the 2019-2021 journey may have looked a little different, we had direction and foresight to traverse the obstacles to achieve our goals.
Our Board was quite involved in shepherding us through the Kingsboro at Lenbrook expansion process and we could not have been this successful without their guidance and support; every dollar we spend comes from the residents, so we are transparent with our finances to all our stakeholders.  Having a plan and creating a timeline with key decision points was helpful for us to balance the current and future impact of short-term and long-term decisions.
It is also a big advantage, in my opinion, that Lenbrook had purchased all the land for the Kingsboro at Lenbrook expansion with cash, and today, we still maintain two lots for future use. Again, it is this foresight that enables us as a team to make timely decisions that maintain our relevancy into the future. As a not-for-profit, we want to maintain a legacy and fulfill our mission today and into the future.  To that end and based on our experience now with two once-in-a-lifetime crises, the 2008 recession and the pandemic, we know how critical it is to have a financial and strategic plan in place so that we may weather whatever storm comes our way and still achieve our long-term goals.
SLN: How did you and your team balance the challenges that your community faced during the Pandemic while working on the expansion?
CK: Like most senior living communities nationwide, Lenbrook faced unprecedented challenges as the pandemic upended – and continues to change – the living and working environment of our residents and associates, so our day-to-day operations required us to flex and pivot to meet the changing needs of our community.
From the start of the pandemic in March 2020, we realized that our overarching responsibility was to keep our community safe and informed. We instituted service and dining protocols, weekly virtual Town Hall meetings, and new safety processes, and we found that our community stayed strong. I am especially grateful for the passion, flexibility, and professionalism of our 250+ associates, whose initial roles evolved to support our residents throughout these uncertain times.
Taking on major construction is a challenge in 'normal' times – let alone during the pandemic. But I am glad to say that throughout, the Kingsboro at Lenbrook expansion project continued successfully. We broke ground in October 2019 and by June 2021, hard construction was more than 95% complete.
Our general contractor, Brasfield & Gorrie, was able to maintain an excellent pace, and we did not experience any stagnation or scale down of the Kingsboro at Lenbrook project. We continued to achieve our targets and milestones – and that added to outstanding consumer confidence.
https://vimeo.com/639215821
The first Kingsboro at Lenbrook residents moved into the completed $108M expansion in October 2021, when the 53 new homes were officially 'revealed.' The Kingsboro at Lenbrook expansion allowed us to add more amenity spaces for all residents to enjoy, including a new regulation-size croquet lawn, a beautiful rooftop amenity, and indoor and outdoor gathering spaces.
Fortunately, we enjoyed a high retention of Kingsboro at Lenbrook depositors. In addition, since Lenbrook's financial status continued to be so strong, we made the strategic decision to retain our committed associates during COVID-19 and did not have to implement furloughs or layoffs. Our associates pivoted, taking on responsibilities wherever needed.  We retained existing services where practical and complemented them with new services during the pandemic.
I'm also proud to note that during the past two years, in addition to this major construction project, we made other investments in our existing community, such as adding LED air purification units to the main floor HVAC systems; renovation of The Grill dining venue; renovation of first floor restrooms; and planning costs for the renovation of the lobby and the outdoor dining venue.
Lenbrook's investment grade rating of BBB- with a stable outlook was reaffirmed by Fitch Ratings after their annual review in April 2021. This review by an external independent rating agency provides assurance that even during these extraordinary times, Lenbrook continues to be financially sound and professionally operated.
SLN: At a time when competition is especially fierce for new residents, how did you and your team approach sales and marketing for this new section of Lenbrook's campus?
CK: When we announced Kingsboro at Lenbrook to our Advantage Club members and other target audiences, we were delighted but not surprised by the strong advance interest and robust early sales of our new residences at Kingsboro at Lenbrook. Currently, we have only 15 of the new elegant, spacious residences left.
Throughout the entire expansion, we have been working closely with THW Design to realize our high-end luxury Villas and Flats. Our sales and marketing team had a very close pulse on the design preferences of the priority wait list members.  This led to a highly desirable product.  Like the rest of the Lenbrook campus, Kingsboro at Lenbrook's final architectural design also features elements of biophilia: bringing the energy of nature into the interior spaces.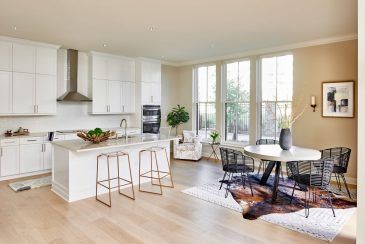 Their outstanding plans, combined with the modern mix of both interior and exterior finishes that we used, appeal to the most discerning senior buyers. In addition, Lenbrook's outstanding amenities and reputation helped the sales team in the selling process, while our team of move-in coordinators help every new resident's transition run smoothly.
From the beginning, our project team, including our financial partners, had much confidence in the project, and thanks to that, we did not have to reach the usual 70% sales threshold before starting construction. This also resulted in additional savings for the project.  Furthermore, our solid financial position meant that our amazing sales team was able to offer helpful relocation services to depositors to help ease the cost and strain of moving.
We are pleased to see that there is strong market demand for our community and our overall occupancy rate is climbing. We understand that it will take some time to get back to pre-pandemic levels, but our management team and Board are confident in the creative and successful sales and marketing plan we have developed.
SLN: How have current Lenbrook residents responded to the new addition to Lenbrook's campus?
CK: Because of the strong historical investment in our existing community, this is Lenbrook's first expansion that will pay for itself in the first generation of residents. The Kingsboro at Lenbrook expansion will be truly accretive in nature to Lenbrook and this becomes a real benefit for the affordability of all Lenbrook residents.
The Kingsboro at Lenbrook expansion added new residences and brand new and unique amenity spaces for all residents to enjoy.  As soon as the spaced opened, existing residents were utilizing the croquet lawns, the Kingsboro Room for bridge and other social events, and quickly broke in the outdoor living room and Kingsboro courtyard!
Our residents are enjoying the ease of accessing these spaces due to the innovative idea of the connector and gracious front Entry Plaza. The Board approved the completion of the magnificent front Entry Plaza and connector to ensure the existing community and new expansion would function as one community which was a fundamental goal for this project.  This unique and purposeful design of the front Entry Plaza and connector will benefit all current and future Lenbrook residents.
I believe that Lenbrook's careful planning and long-term vision allowed our team to make expedient decisions, like the one about the connector and front Entry Plaza, when necessary.
SLN: Did you have concerns about adequately staffing these new facilities at a time when the aging services sector is facing a labor shortage? 
CK: Even though staffing is a concern throughout the senior living industry, and the need for trained and dedicated caregivers is urgent nationwide, we are pleased to note that Lenbrook's staff turnover has been low, and our healthcare rating remains high. In short, despite the pandemic, Lenbrook's operational condition has remained excellent.
Lenbrook's mission inspires its associates – it reminds them of their roles and in many cases, their calling. The pandemic reinforced that Lenbrook's associates were mission-driven and came to work each and every day with an open mind and an open heart. Their roles shifted and pivoted, and associates were committed to doing what it took to help keep the mission relevant, despite whatever limitations COVID presented.
It is often said that you arrive at a crisis with what you have – you can't build anything, you can't change your team or your structure – and Lenbrook arrived at a crisis and continued to weather the crisis with a committed team of caring, competent, and responsive associates who remain devoted to our mission.
Especially during the past few years, our attention has been fixed on the safety and wellbeing of our associates and the residents we support. We were tested by the pandemic operationally and financially in ways we could not have imagined. Essential supplies purchasing was expanded; roles for entry point health screening and for COVID testing were added; reporting processes to meet new requirements were created; and operational adjustments were implemented quickly, such as expanded dining services delivery.
I am so grateful to be able to say that our associates rose to the occasion, despite significant upheaval in their personal lives, adapting and staying committed to the success of Lenbrook.