Giving It The Old College Try
As life expectancy increases and levels of health improve, many older adults are working longer, want to continue learning, and often want the opportunity to mix with other generations. As such, some senior living operators are betting on college campuses to provide much of what upcoming generations want and are partnering with colleges and universities to build communities on or near their campuses.
The Spires at Berry College is offering lakeside senior living for "un-retiring" retirees in the new $130 million Life Plan Community set alongside Eagle Lake at the foot of Lavender Mountain, on the campus of Berry College in Rome, GA—one of "America's most beautiful college campuses" on the Best College Reviews ranking.
"It's beyond what most people imagine in a retirement community," said Berry College President Dr. Steve Briggs during the October 2018 groundbreaking. "It's the opportunity to be on a college campus again and really make the most of it—music and arts performances, public speakers, classes, sports events, and much more."
The Spires at Berry College will create the opportunity for inter-generational engagement and interaction—benefiting residents and offering a valuable advantage for college students. The Spires has already welcomed several teaching professionals and retirees—those with affiliations to Berry College and those with strong connections to the Rome area and beyond.
Set to open in 2020, The Spires will feature 170 independent living units and 107 health care suites for assisted living, memory care and skilled nursing care. Amenities include multiple dining venues; a comprehensive wellness center with indoor warm salt water pool, wellness and fitness programs and classes; 40 miles of nature trails; and more.
Greenbrier Development will oversee the project, as well as the management of The Spires when it opens.
Meanwhile, Mirabella at Arizona State University (ASU) is a 20-story, $250 million Life Plan Community that broke ground in February 2018 on the campus of one of the most dynamic research universities in the country. Scheduled to open in 2020, the Mirabella at ASU was sold out before the end of the year.
It will feature 252 independent-living apartments and 52 health-care units—including assisted-living apartments, skilled-nursing suites and a secured memory-care section—as well as an indoor pool, theater, art museum, spa, dog park and four restaurants.
Residents will enjoy resort-style living in a vibrant, urban location within walking distance of dining and shopping experiences. They'll have access to more than 450 courses in ASU Continuing Education or at the Osher Lifelong Learning Institute and use campus facilities such as the library with university-based ID cards.
"There's no reason everyone can't be a college student and engaged in what this community has to offer for the entirety of their lives," said ASU President Michael Crow, calling it "the world's coolest dorm" at the groundbreaking ceremony. "We're excited that we'll have on our campus several hundred new learners, new teachers and new experts."
Crow said that ASU is reconceptualizing lifelong learning and sees Mirabella residents becoming integrated into campus life as much as possible in ways they want to engage—as guest lecturers, advising on start-up companies, being docents at its art gallery and performance hall, even shaping academic programs and research.
ASU is hoping that Mirabella residents will want to mentor students and is considering whether students could work with residents as part of their coursework. Crow said areas of collaboration might include art therapy, Alzheimer's treatment, nursing and online education.
Mirabella at ASU is being developed by Pacific Retirement Services in partnership with University Realty, the real estate affiliate of Arizona State University.
Earlier this spring, Purchase College in New York—part of the State University of New York system (SUNY)—announced its plan for bridging the gap between generations with its $320 million, 220-unit Broadview Senior Living at Purchase College, an independent living community for adults 62 years and older on its campus.
Calling it a "senior learning community," Broadview will include two four-story residence buildings with 174 apartments and 46 villas. Twenty-percent of its units will be affordable housing made available to moderate-income seniors.
A shared space at Broadview called the Learning Commons will be open to everyone—students, faculty, and staff as well as Broadview residents—and will feature a café, computing lab, classrooms, maker and performance spaces, and more. Classes and courses offered to Broadview residents at the Learning Commons will also be open to students.
Construction is expected to start in late 2020/early 2021, with the opening of the community planned for mid-2022. Purchase College will partner with Life Care Services (LCS) and Senior Care Services.
In Oviedo, FL, just one mile from the University of Central Florida (UCF), Legacy Pointe at UCF is a Life Plan Community currently under development that will have a partnership with the University.
Legacy Pointe residents will be able to attend any UCF class for free as long as it's not full. They can also use campus amenities, such as the library, study halls and the gym. Transportation to and from the community will be provided.
"There's a need for engaging new living options in the Orlando area because of the growing senior population and their changing outlook," said Dr. James Wells, executive director. "Through our partnership with UCF, our residents will experience a unique and dynamic lifestyle developed with the deep knowledge of the university alongside partnerships with our residents, not just 'providing for them.' Our multi-generational campus will provide opportunities for continuing education and clinically informed cutting-edge medical practices to achieve resident-centered care."
Legacy Point at UCF will feature 32 villas of various sizes for independent living and 140 independent living apartment homes, as well as a performing arts center, classroom spaces, fitness center and spa, a sun-and-shade heated outdoor pool, multiple dining venues, a game room, gardening areas, creative arts studio, and walking and cycling trails.
As part of its lifecare agreement, the community will provide a continuum of health care services and accommodations on-site, including 48 assisted living and memory care apartments, and 48 skilled nursing suites with a 3,500-square-foot rehab gym for its more than 300 residents.
Construction of the community is anticipated to begin in fall 2019, with an opening date scheduled for 2021.
Credit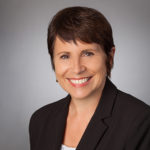 Cheryl Slavinsky
Editor
As editor of Senior Living News, Cheryl curates the news and writes a weekly feature story. She also plans the education portion of the HealthTAC events produced by Senior Living News and moderates the executive panel discussions. Cheryl has consulted with senior living clients for more than 20 years and served as senior public relations strategist for Varsity, a marketing and sales consulting agency focused on occupancy for retirement, assisted living and continuing care retirement communities (CCRCs)/Life Plan communities, and more. She previously managed national media relations as Rite Aid's director of public relations.