Trilogy Health Services Elevates Arsenal of Disinfection Tools with R-Zero's UV-C Technology
Trilogy Health Services, a provider of senior living services in over 120 communities across Kentucky, Indiana, Ohio, and Michigan, is proud to announce that 112 Trilogy senior living campuses are now equipped with Arc – R-Zero's hospital-grade UV-C Disinfection System.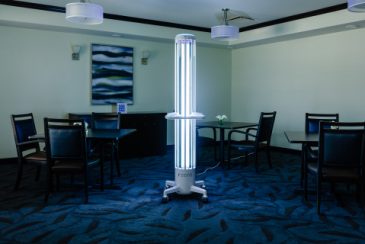 Housed in all areas of the hosting campus, Arc's UV-C technology provides a critical layer of added safety for Trilogy residents, employees, and families by offering the highest level of infection prevention possible. The touchless, germicidal device uses concentrated and chemical-free UV light to eliminate surface and airborne microorganisms – including those that cause COVID and the seasonal flu – with an efficacy rate of 99.99%.
"We applaud Trilogy for taking a leading role in establishing a new standard of care for both residents and employees," commented Grant Morgan, CEO and co-founder of R-Zero. "Implementing sustainable UV disinfection as part of daily infection prevention protocols is a testament to Trilogy's commitment to the health and safety of their communities, and we are proud to support their efforts to create the safest, healthiest communities in the senior living industry."
Serving as a vital aspect of Trilogy's cleanliness initiative, the Trilogy SHIELD Program, Arc is the latest of several disinfection measures that the provider has put in place to prevent the spread of disease.
"When it comes to the health and well-being of our residents and employees, we are thinking beyond just the COVID-19 pandemic," Leigh Ann Barney, Trilogy Health Services President and CEO said. "Thanks to technologies like Arc, we are pioneering new standards of cleanliness for the senior living industry, developing protocols that will keep both current and future members of the Trilogy family happy and healthy for years to come."