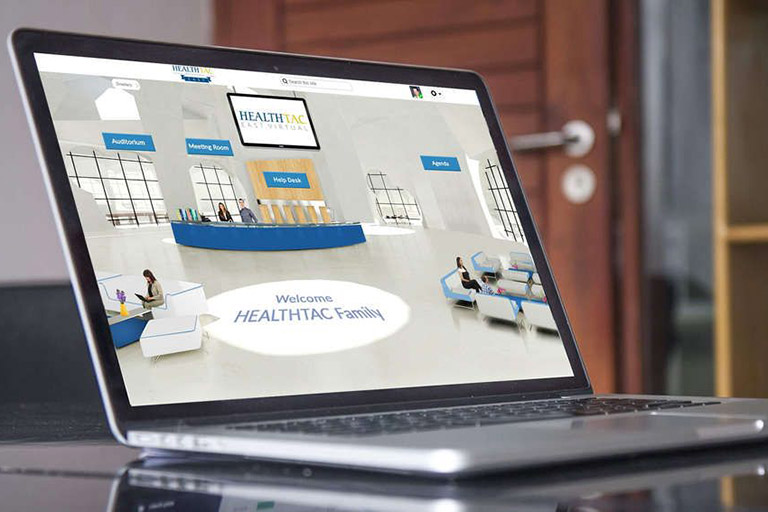 By joe | April 14, 2020
The recent two-day HEALTHTAC East Virtual 2020 conference hosted by Senior Living News focused largely on COVID-19 with senior living leaders and vendor partners from across the country participating in the virtual networking forum and online event.
"HEALTHTAC has always been a solutions-oriented, high-level relationship-building event, and there has never been a time when communicating and focusing on solutions was needed more than now," said Rich Viola, CEO, Senior Living News. "Our objective was to help facilitate keeping businesses moving forward with a forum inspiring an open dialogue and timely awareness as one, large, unified community."
Immediately following the event, Barbara Kane, VP, Industry Relations, Ecolab, Inc., wrote to HEALTHTAC about the event's virtual nature. She had shared "COVID-19 – Where We Stand Today," a visual presentation about coronavirus, how it spreads, and how we can protect ourselves and senior living communities.
"All I can say is WOW!!! Since I attend conferences for a living, I was wondering how you were going to be able to pull this off, but you all were AMAZING!!! And the people you have attending are so wonderful. Once again, I had some GREAT meetings with some solid leads! Thank you all for taking the risk to do this virtually. WELL DONE!!! You all are industry leaders, and this proved it," Kane wrote.
Keynote speaker Gustavo Grodnitzky, Ph.D., presented Culture, Coronavirus and Recovery—What we can learn from companies that are weeks ahead in responding to this pandemic. Author of the book, Culture Trumps Everything, Dr. Gustavo shared two sessions—first, a strategic overview of seven steps to overcome this COVID-19 pandemic, and then a recorded session including a tactical breakdown from which participants can create an action plan to weather the current crisis and position themselves to recover and move forward.
Participating senior living leaders appreciated many vendor partners who have offered services or extensions of services at no cost to senior living organizations battling COVID-19, including BookJane, EverSound and ConnectedLiving.
Some announced new services including RCare, maker of nurse call and monitoring solutions, which designed a new emergency system that could be deployed in only five minutes. Adams Keegan, a national HR, benefits and payroll provider, launched two new tools developed to assist businesses with navigating the complexities of COVID-19-related government stimulus programs.
Sarah Hoit, CEO, ConnectedLiving, spoke on the "COVID-19: Up to the Minute" panel with Brian Evans, senior practice care leader and business development director, Adams Keegan; Jamison Gosselin, vice president, senior living, G5; and James Hoevertsz, Director of Culinary Excellence, WesleyLife—sharing best practices in technology, marketing and communications, human resources and dining.
"This has been both a scary and also a very validating moment because the rapid move to innovation and connection is now a must-have in senior living. If we ever felt that senior voices are important … their stories, family connection, and breaking isolation and bringing purpose … this is the moment," said Hoit.
Many in the industry have remarked that the use of technology in the current situation has not only connected people but is sparking an even greater sharing of what are often called the "love stories" of the senior living industry. Those on the front lines are being creative with serving, engaging and surprising residents, motivating and praising teams, and sharing those love stories on social media.
After the event, Hoit shared her enthusiasm for the event on a LinkedIn post, writing, "Innovation, ingenuity and technology were the focus of the HEALTHTAC Virtual conference that was pulled off brilliantly despite COVID-19 with a large virtual group of senior living industry leaders who all shared best practices on how to leverage technology and connection for communication, isolation, and programming."
Kelly Ornberg, chief marketing officer, Summit Vista, a large CCRC in Taylorsville, UT, spoke with Daniel Levy, President, DK Design; Jami S. Mohlenkamp, AIA, Principal, OZ Architecture; and Connie Wittich, Owner/Designer, Metropolitan Studio on the "Combating Social Isolation with Design" panel, which included advice for the future, as well as under current conditions.
"From a marketing perspective, the best thing we're doing right now is announcing to the public how our residents are happy and safe," said Ornberg, sharing the idea of a video Summit Vista produced and shared on its Facebook page and in emails to families.
"We've been able to be a constant resource to families," Ornberg added, suggesting, "Shift your marketing to be a story teller, tell your family stories, tell your resident stories, tell your employee stories about what it's like right now and highlight those amazing stories of connection and community."
Lisa M. Cini, CEO, Mosaic Design Studio; Gary Jones, general manager, customer experience, vcpi; and Scott Smith, director of education and experience, Thrive Senior Living, discussed "The New Demand: Personal Tech in Times of Crisis" and how COVID-19 had impacted their work.
Jones said vcpi was helping many companies adapt to remote work-from-home setups, making sure everyone could access files, etc., securely, and helping many understand and navigate the parameters and changes around telehealth, telemedicine and e-visit services, which changed drastically just since mid-March.
As a member of Thrive's COVID-19 task force, Smith said his job has changed completely as he works with several clinicians, educates himself and prepares a daily webinar that equips the leadership team with the tools they need on the ground to effectively fight the disease and keep their residents safe.
Cini detailed the challenges of having to get things and staff safely out of 40 projects underway, not wanting to leave projects exposed to the residents and things half done, but also rethinking the future regarding how they support their clients' design needs and whether they need to change their standards from a furniture and cleanability standpoint.
Always a supporter of technology to change lives, Cini wrote after the event, "… having been on several virtual conferences in the last couple days, the HEALTHTAC team pulled it off without a hitch. I felt not only well informed but also well connected. Kudos to all who spoke and attended."
Because HEALTHTAC was a virtual event, it was open to other team members of participating senior living executives who could receive CE credits. The HEALTHTAC East Virtual program was approved for Continuing Education for 4.75 total participant hours by NAB/NCERS—Approval #20210329-4.75-A66257-DL.
"Yet again, a great HEALTHTAC East," said Eric Hadley, executive vice president, Premier Senior Living/REVELA. "I certainly enjoy the live meeting experience, but I also really appreciated our team-members being able to join me in these virtual meetings. I think the vendors and our team-members made valuable connections."
Senior Living News has made HEALTHTAC East Virtual keynote speaker presentations, panel discussions and other presentations available here or by clicking the banner at the top of the SeniorLivingNews.com website.