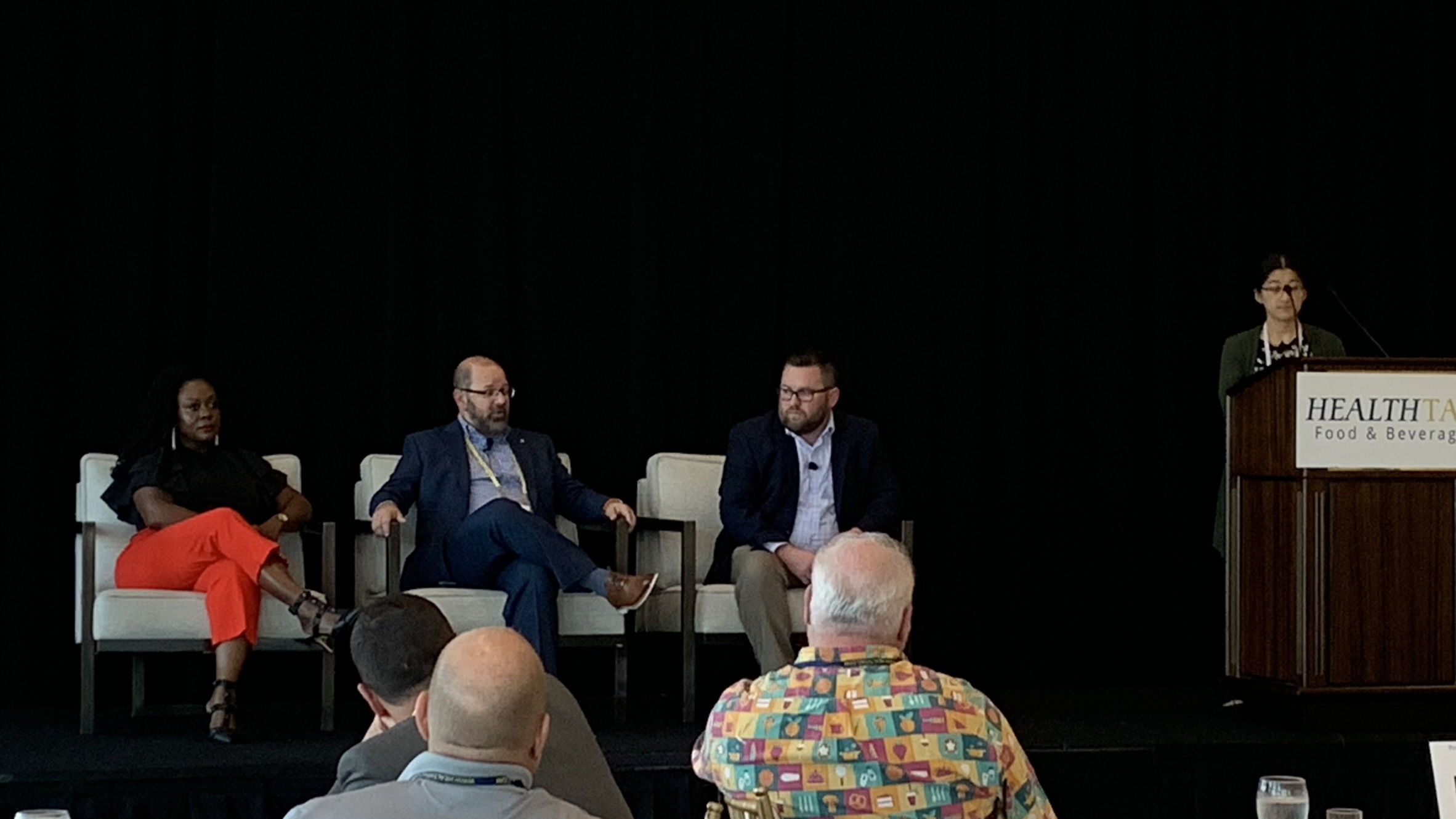 By Caroline Chan | January 27, 2023
The final panel of HEALTHTAC Food and Beverage 2022 centered around ensuring a dining experience for residents. During the panel, which was titled "A Dining Experience: How Senior Living F&B Is Going Beyond Feeding and Eating," the culinary executives discussed eating versus dining, innovation, trends and more.
"Feeding is where we were before in senior living, where it was just the option of the day—and if you didn't like it, maybe you got a tuna sandwich as your alternate. There was no effort put into it," said Tyler Ratigan, director of culinary operations at Ovation by Avamere. "But today, we're seeing restaurants and display kitchens being built, and really creating an experience."
Another panelist agreed. "Now we're seeing ourselves as a restaurant/dining option, coming away from just trying to fulfill the basic need of having our residents fed and nutritionally complete," said Natalie McGee, VP of resident engagement and experience at Milestone Retirement Communities. "To me, it's the intentionality… Even changing titles and being intentional with word usage makes a difference."
Thad Parton, corporate director of restaurant operations at Mather, spoke from personal experience regarding updating titles.
"New hires come in…and they seem to forget that they came out of the restaurant business," Parton said. "So changing their titles gets them back into that mindset. You have to remind them [that]…just because we're in a senior living community, doesn't mean we're [not] running restaurants… Residents can go out; they don't have to dine with us. But we want to be their restaurant of choice."
And that restaurant mentality is key.
Parton recently implemented a process of handing residents a check after their meal. But they're not paying, so why do they need to see a check?
"We're on a declining balance program [and] residents want to know what they spent on their meal," he explained. "And you sign a check at a restaurant, right?… It shouldn't be any different in our restaurants. They sign the check that says they saw what was spent and what's left, and they agree with that."
Part of the restaurant mentality also includes opening up the community's restaurants to the public. Ratigan's doing that with his fine dining restaurant.
"We're trying to invite the public in," he said. "We're open three nights a week, and we get lots of outside people coming in."
It's also important for residents to have options. Parton's community has a fine dining venue, an upscale casual restaurant, an all-day café and a coffee shop/bar lounge. "Being able to…choose from four restaurants every night for dinner—or every day for lunch or breakfast—is a big part of that restaurant-style experience," he said.
Ratigan's also trying to ensure a dining experience for his residents through non-traditional kitchen setups. "In one of our communities, we have a display kitchen—that's out front with our pizza oven, induction burners and a whole bar setup. And our assisted livings are open kitchens where the residents are able to see the cooks," Ratigan said. "[It's about] putting the cooks out front with everybody to build a familiar face [and] so the residents know who their food is prepared by."
However, some residents don't feel comfortable eating in a restaurant or dining room yet.
For McGee's residents that still prefer to get food delivered, she's created a dining experience for them through plating, using china and good cutlery and making sure the food is still warm by the time it gets to them. "We're trying to give them that in-room dining experience," she said, "until they're ready to come back and join us [in the dining room]."
The panelists also stressed that residents at all care levels should get a dining experience (and aren't just fed).
"I feel like the further you go down the line, you always get forgotten about," Ratigan began. "We should be elevating dining beyond independent living… Typically, in assisted living, memory care or long-term care, they're paying more money, but maybe the food is worse. Try to elevate dining on all aspects. Don't just focus on the shiny independent living venues that are being built—put forth effort into the rest of the continuum of care."
McGee agreed. "The experience should be transferable between the different modes of living and different tiers," she said. "What does dining look [like] for someone that's going through the cognitive changes of memory decline?… Sometimes someone needs diced, pureed or thickened food; how can we accommodate that need, but still have an elevated experience for them?"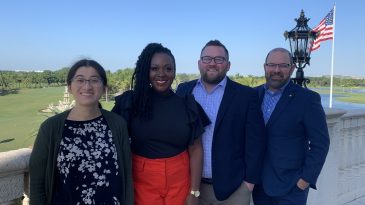 The panelists also discussed the innovative measures that they're taking in their communities.
"I think of innovation as something new—something that your residents and teams haven't seen before," Parton said. His community has robots running food out to the dining room, and they're about to implement hydroponic gardens.
To help residents who are visually impaired, Ratigan's communities have plates with colored rings so those seniors can see the plate better, and they're starting to add braille to their menus.
McGee's looking at innovation not only for her residents, but also her employees.
One of her communities has a demo kitchen, and they're going to try and use it to host a Food Network-style cooking show. "We're going to have our residents cooking with our chefs, and we're going to be recording and broadcasting it," she explained. "Our residents are coming for fine dining—they're paying for that and enjoying that service experience—but they [also might] come from years of cooking; some of them are still engaged in that way. So it's about [finding] that balance."
Her communities also hosted a Christmas bake-off in December, where their chefs could submit their best desserts.
"A lot of times we're focusing on our residents (as we should), but our employees provide the experience and engagement, so it has to be in tandem. What are we doing on the resident side and on the employee side, and how can we have those two in a symbiotic relationship so they're both getting recharged from each other?" she said. "Bring the employees into the experience for that engagement."
Parton's also been innovating for his employees in the form of a training program. The first level is required—in fact, that's part of the onboarding process for new employees.
"We're not recruiting seasoned servers/cooks anymore; to get people in the door, we're willing to take people with less experience," Parton said. "You have to get them up to speed as quickly as possible."
However, if an employee takes and passes the optional levels two, three and/or four, they earn another $0.50 per hour. "Give your team members an incentive to engage in the system," he said. "And [if] somebody's incentivized to go through those levels…now, we've got our next lead cook/server/sous chef. There's a clear career ladder for them to follow to prepare for the next big role."
After all, the biggest thing he's learned is continuous improvement.
"As a young line cook…I spent years cooking starches and vegetables, and I always tried to make today better than yesterday. How can I blanch those green beans better today than I did yesterday? It was a game with myself," Parton said. "So I challenge my teams to think about how yesterday went, and how can I make today better?… The team members, residents and business [all] benefit from that mentality."
While McGee agreed that improvement is important, she also emphasized making employees feel valued where they stand now.
"Sometimes our chefs are in the kitchen, they create a beautiful meal, it goes out [and] the servers get the kudos/feedback. I'm trying to build into the service process that in some way…every person that plays a part gets to feel and hear positive feedback," McGee said. "[I'm] trying to build confidence and pride in employees, because when they're getting that feedback and they feel good about their part…it will bring them back another day—and it will keep them wanting to come back… When they know that what they do matters—and they're getting that feedback—that goes a long way."