Bridging The Gap
Intergenerational programming in senior living communities connects residents to a broader community, reducing loneliness and enhancing the well-being of both seniors and youth. Such programs can help fight ageism, introduce youth to new career paths and even help solve greater societal problems.
In July, East Ridge Residence, an independent living retirement community in Chattanooga, TN, teamed up with several local organizations to provide a new home for a teen in the Independent Living Program of Partnership for Families, Children and Adults, with the help of The Victory Lap. John, 18, had been in foster care for four years before aging out and joining the Partnership's Independent Living Program.
The Victory Lap is a Nashville organization bringing generations together by housing older foster youth in retirement communities. Partnership for Families, Children and Adults is a local child welfare agency that provides group homes and a resource center—as well as other social services not related to foster care—as part of the state's Extended Foster Care (EFC) program.
East Ridge residents lined up to welcome John with special t-shirts, pom-poms and the opportunity to do a celebratory cannonball into the pool, since he loves to swim.
John graduated with honors from high school in the spring and works in the dining room at East Ridge where he now has his own apartment. He started at Chattanooga State Community College this fall with the hope of one day becoming an FBI technical analyst.
Both East Ridge Residence and Partnership for Families, Children and Adults are committed to The Victory Lap model and hope to welcome more youth in the future.
"We are proud to be the first community to partner with Victory Lap and are excited to have the very first participant living with us," said Matt Fox, founder & CEO of Veritas Senior Living, which partnered with Atlas Senior Living last year to acquire East Ridge Residence. "It is a great opportunity for intergenerational relationships to form and grow.
"The thing I am most excited about is the potential relationships that John will form with our residents," Fox added. "John is an energetic person and will bring vibrancy to the community that will brighten the residents' lives, while he will have the opportunity to learn from the residents' wisdom and life experiences. It truly is a win-win situation for all involved. We also get the opportunity to help him grow professionally as he works with us while attending college."
The biggest problems for teens like John who are aging out of foster systems are homelessness, unemployment and lack of connection to caring adults, according to Rosemary Ramsey, founder of The Victory Lap, which helps these teens find new support system at retirement communities.
"The Victory Lap model goes beyond the obvious inter-generational play," Ramsey said. "Part of the win-win is the revenue—$700-1200/month/unit depending on the state's stipend—for otherwise vacant units and having staff on-site, which eliminates transportation-related call-offs. The Victory Lap is not just a life enrichment opportunity, it's a business opportunity!"
Ramsey told Senior Living News that about 22,000 kids age out of foster care every year in the U.S. Most states now offer Extended Foster Care to those who elect it and meet certain educational and vocational criteria. The states contract with child welfare agencies—which they pay to provide housing, food allowances, supervision and life skills training to the youth in their care—generally until they turn 21, leave the program, or no longer meet the requirements.
"The problem is the agencies operate group homes at a very small scale—most are a dozen kids or less," Ramsey said. "They basically have to provide everything to these kids that retirement communities do for their residents, but can you imagine trying to do it for only 8, 10, or 12 residents? The state stipends are not near sufficient to fund the model, so the agencies rely on donors to make up the difference, which then limits the number of kids they can serve.
"The Victory Lap leverages the high fixed costs and scale economies of retirement communities to provide apartments, utilities, some meals, and staff on duty 24/7 at a fraction of the cost of a group home. In addition, the youth are guaranteed at least 10 hours per week of paid work, not to mention plenty of love from their neighbors."
Meanwhile, in California, Merrill Gardens at Monterey residents partnered with 5th grade students from a nearby elementary school to share their life stories.
The senior living community has a strong relationship with the Stevenson School, and residents have enjoyed monthly visits over the years from students in various grades. The project undertaken by these fifth graders provided an inspiring connection and resulted in new intergenerational friendships.
Nine students were partnered with residents and tasked with documenting their life stories. Students visited the community for a series of interviews, learning about the residents' childhood memories, education, military service, favorite jobs, worst jobs, what made them happy, what their most difficult life experience has been and ending with advice the residents would give to the elementary students.
At the final student visit, the community hosted a celebration, and each student shared what they learned about their new friend.
"It was the sweetest thing, and many of us were in tears," said Ruby Perez, Merrill Gardens at Monterey Active Living Program Director. "I cannot describe how happy our residents were to have a young child share their life experiences in such a creative way. It was truly an amazing project."
The students even brought residents gifts based on what they shared. A WWII veteran got a mug, another resident got a cozy blanket as she likes to sit near the fireplace, and another received fresh flowers. The students and residents shared contact information with each other and plan to stay in touch through letters.
Credit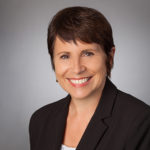 Cheryl Slavinsky
Editor
As editor of Senior Living News, Cheryl curates the news and writes a weekly feature story. She also plans the education portion of the HealthTAC events produced by Senior Living News and moderates the executive panel discussions. Cheryl has consulted with senior living clients for more than 20 years and served as senior public relations strategist for Varsity, a marketing and sales consulting agency focused on occupancy for retirement, assisted living and continuing care retirement communities (CCRCs)/Life Plan communities, and more. She previously managed national media relations as Rite Aid's director of public relations.