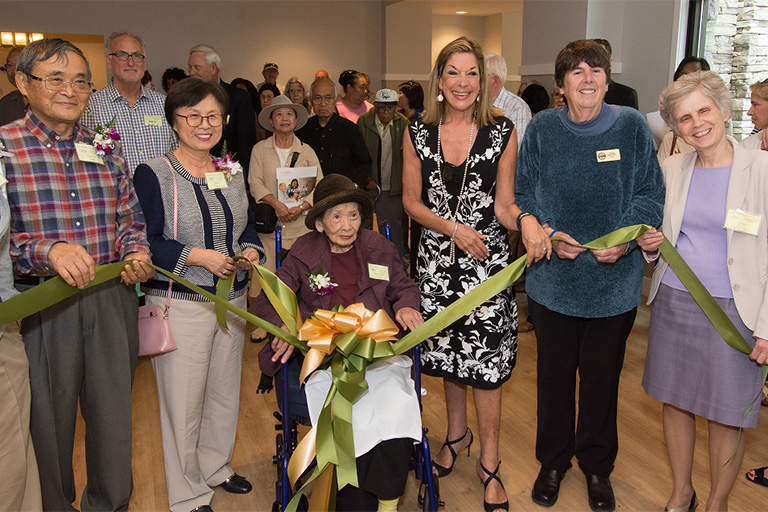 By joe | August 18, 2017
The senior living industry will continue to be defined by increasing partnerships as owners, operators and providers strive for better ways to enhance their residents' experience and improve their health, differentiate themselves from others, and sustain, strengthen and potentially expand their missions.
Assisted living communities are already developing partnerships with home healthcare providers, hospitals and physician practices to provide integrated services or solve specific problems. Technology will continue to revolutionize aging and medical care. Partnerships with local organizations offer opportunities for social, cultural, educational, spiritual and personal fulfillment for residents. Here's a look at some of the partnerships making news recently:
Belmont Village recently celebrated the grand opening of its newest community in Albany, CA—the culmination of a collaboration begun in 2011 with the University of California, Berkeley and the City of Albany to provide a unique housing experience for older adults in the Bay Area. Providing 175 independent living, assisted living and memory care residences, Belmont Village Albany allows residents to stay in the area they love with the support they need to continue to live life on their terms. University affiliation is not required for residency.
"We relish being a part of this dynamic partnership, embracing Albany's community-oriented character and sharing the benefits of our University affiliation, with its myriad of opportunities to create intellectually enriching programs and thought-provoking research on quality aging," said Patricia Will, co-founder and CEO of Houston, TX-based Belmont Village Senior Living.
Belmont Village Albany is the organization's second university affiliated community. Its first was Belmont Village Westwood, which opened in 2009 and is affiliated with UCLA.
Eskaton, the largest non-profit community-based organization serving seniors in the Greater Sacramento area, has partnered with nonprofit Peninsula Health Care District (PHCD) on a new assisted living and memory care community across the street from Mills Peninsula Hospital in Burlingame—The Trousdale, now renting apartments for 2018.
Owned by PHCD and managed by Eskaton, The Trousdale includes 101 assisted living apartments, 23 memory care residences for those with Alzheimer's or dementia, and several apartments at below- market rate for income-qualified applicants.
Inspired by surrounding Silicon Valley technology, it features smart-sensor LED lighting that adapts to the needs of the residents, an online portal for easy communication between family and residents, and more that has been proven to increase the well-being of residents, including lifelong learning opportunities, wellness center, yoga, acupuncture, art and music programs.
With socialization the leading indicator for quality of life in the later years, the partners see assisted living and memory care as a fundamental element of the continuum of care. With their eye on shorter hospital stays, more procedures being done on an outpatient basis and more demand for choice, they share a vision of how the hospital and community partners can work together to provide quality transformative care.
"The future of aging services looks nothing like it does today," said Lawrence Cappell, chair, PHCD board of directors. "The role of the caregiver is now being taken on by the adult children. Not only are we servicing the person who is getting older, but we're also going to be servicing the person who is taking care of that person."
With many experienced financial partners on the debt and equity side and multiple upscale senior living projects in development across the southeast, Watercrest Senior Living Group (WSLG) veteran principals Marc Vorkapich, CEO, and Joan Williams, CFO, are priming the company for growth.
WSLG has developed two distinct brands—Watercrest for assisted living and Market Street for its stand-alone memory care communities—and plans to develop four to six properties a year with possible third-party management in the future.
WSLG and United Properties recently announced a new partnership to develop and own a 128-unit luxury senior living community in Naples, FL. United Properties purchased the property in 2016, and the partnership plans to break ground on the project in November 2017, taking occupancy in early 2019. United Properties enters the senior housing market in Florida as the investor and co-developer with Watercrest Senior Living, the operating partner of the Watercrest Naples project.
Watercrest Naples will be a signature Watercrest product, offering 96 assisted living and 32 memory care apartments with resort-style service. Architecture and design features promenade, fireplace, signature water wall, multiple dining options, pool, salon and spa, grand balconies and Florida-style outdoor living spaces in a peaceful setting.
Watercrest also recently celebrated the groundbreaking of Sage Park Assisted Living and Memory Care in Kissimmee, FL, with Providence One Partners. WSLG, the co-owner and operator of the 106,882 square-foot senior living community, will welcome residents to Sage Park in fall 2018. This is the fourth senior living project for Providence One Partners, the developer and co-owner of Sage Park Assisted Living and Memory Care.
Featuring 104 assisted living and 24 memory care apartments with upscale amenities, Sage Park is located in Kissimmee's Osceola Corporate Center where the neighboring area offers diverse workspaces, residential neighborhoods and numerous retail and entertainment centers.
Founded in 2012, WSLG is growing steadily with four communities open in Florida, including two Watercrest communities open in Lake Nona and Jacksonville and one under construction in St. Lucie West already receiving reservations. A 60-unit community in Viera opened this year under the Market Street brand. Under its new 64-unit prototype, two Market Street communities in East Lake (Tampa) and Palm Coast (Daytona Beach MSA) are under construction to open in 2018.
WSLG has additional projects under development in Florida including Sarasota, Boca Raton, Gainesville and Windermere. The company is breaking ground within a year on three of its new 107-unit Watercrest prototype—each with 75 assisted living and 32 memory care units—in Newnan, GA; Columbia, SC and Bluffton, SC.
All Watercrest memory care associates are Nationally Certified Dementia Specialists, and their comprehensive programming focuses on innovative lifestyle approaches, including personal life silhouettes, multi-sensory enhancements, Memories in the Making, and Music and Memory programs.