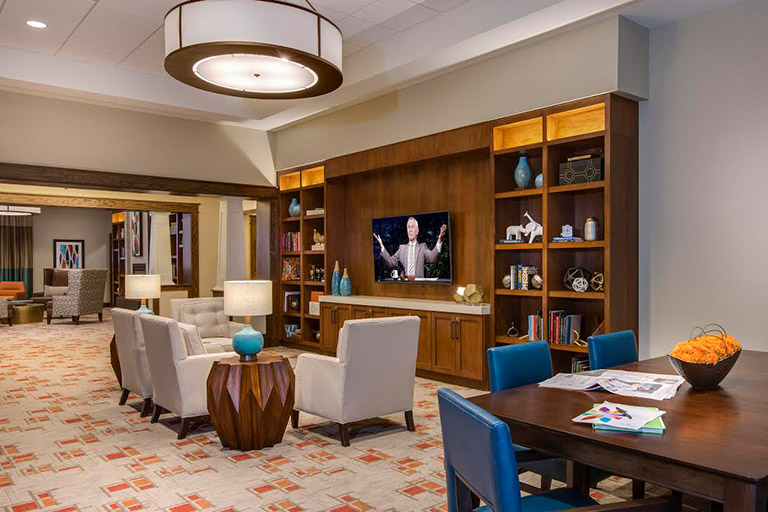 By joe | February 6, 2017
Not so many years ago, interior designers explaining their work in what was then called assisted living design were often met with comments like "Oh, you mean nursing homes." Even designers themselves often turned up their noses at that "type" of design, Alicia Jones, president and founder of Nashville-based West End Interiors, recalled recently.
"I realized early on that this area of design was an ideal balance of all design styles—residential, hospitality, healthcare and commercial," she said. "It was more like hospitality design but offering more opportunity than hotel design because of designing all amenity spaces—cafes, libraries, spas, billiards, chapels, salons, activity, restaurants and numerous other spaces.
Today senior living design has become one of the most sought-after specialties for interior designers across the country, and colleges are incorporating senior living into design curriculums.
Karla Jackson, design director of studioSIX5 in Austin, the largest interiors group in the nation that focuses on senior design, said a lot of firms traditionally not in senior living are moving into that market. Developers with multi-family housing are doing more active adult communities as a way to segue into senior living. Everyone's seeking experienced designers, and they're hard to find.
Jackson was team member #7 of 65 designers at studioSIX5 and marks her 12th anniversary this year. She had actually done her master's thesis on designing environments for people with dementia long before that became a critical industry need. She started taking gerontology classes, moved into design for aging and was hooked.
"It's an area where I feel I can really use my creativity and focus to give back. Even more so than hospitals, way more than office buildings and law firms," Jackson said. "The challenge for us overall is to make senior living communities something that residents are excited about, that makes them want to go there, that families want to visit, so that it doesn't have that stigma of being 'put' into a place like it had been historically. We want it to be a place that is vibrant and engaging and providing all the amenities in one place."
Jones believes the term "senior living design" is becoming dated, because communities are touching every age bracket. Today residents are encouraged to stay out of their rooms, instead of in them, as socialization is key to long and healthy lives. Many communities have intergenerational programs.
"Our goal is to create these communities that are like boutique hotel experiences, that have all the amenities you would be looking for, your adult children would want you to have—because they're the decision makers," Jackson explained. "But it still has to feel like home. It's not a hotel, not a hospital; it's their home. Residents have to feel comfortable there. So it's striking the balance between high-end design and hospitality kind of aesthetic but making it feel approachable and warm like a home."
Jones loves designing for all levels of care and is passionate about having an opportunity to design environments that accentuate the quality of life and enable residents and caregivers to achieve an optimum level of wellbeing.
Jackson loves the challenge of the parameters designers have to work within. No polished stone floors because of the glare. Materials must be slip-resistant. Carpet must have moisture barrier backing. Lighting that looks residential must function for seniors' fading eye sights. Aisles in restaurants must be wider and furniture more durable because of assistive walking devises. Furnishings have ergonomic dimensions to work within—the firmness of the seat cushion, the tilt of the back, the height of the arm in relation to the seat.
"You have to make sure these beautiful pieces of furniture that look contemporary and hospitality-like actually function for a 90-year-old woman who has to get in and out of the piece," said Jackson. "It's more fun, and it allows you to be creative but within some established parameters that meet the need of the end users rather than being given carte blanche as you may with a hospitality project or even a residential project."
studioSIX5 President and Architect Dean Maddalena said the past year has seen a considerable increase in new construction and renovations to try to meet the demand of seniors looking for housing.
"In order to keep up with competitors, developers have to appeal to seniors and staff more than ever before in order to be successful," said Maddalena. "We're seeing an increased request from seniors who want to be able to personalize their schedules, activities, meal times—everything, really—and we're working to create spaces that set developers and operators up for long-term success."
studioSIX5 team members put their heads together to come up with a list of must-watch industry trends for 2017:
1. Rapidly increasing construction costs will continue to stress project development pro formas.
2. The incorporation of technology in signage and furnishings will increase. Jackson sees this as the biggest trend—at least for studioSIX5—enabling staff to engage with residents and families to become more engaged with their family members. The firm developed digital memory boxes after Maddalena was saddened by empty ones he saw—the wooden kind or those recessed into walls outside rooms—because some residents had no families to fill them. Now everyone can have photos and images that spark memories, perhaps of careers and hobbies.
Collage, another product, is a series of five 30-32″ monitors allowing staff and community members to upload menus, announcements, photos and images that can aid in wayfinding. USB ports under lounge bar tops and embedded in cozy lounge chairs allow residents to recharge devices, check the news or Facetime with grandchildren. More and more residents are tech savvy and have that expectation.
3. Community design will continue to shift focus from including several decentralized amenity spaces in a community toward flexible multi-use rooms in a central hub of activity.
4. Operators will increase attention to caregiver benefits/amenities to attract and retain dedicated staff members.
5. Hospitality influence on senior living will shift from focus on design to more personalized services for residents.
6. Multiple and flexible restaurant venues provide variety for residents and families and attract top-quality chefs and personnel.
7. Cruelty-free and eco-friendly products and materials made in America will become more prevalent, motivating greater interest in company transparency and access to information regarding possibly harmful construction materials.
8. Colors will feature neutral palettes layering shades of gray and beige with accents of bright, saturated colors in furnishings and accessories.
9. Vintage modern style will be utilized heavily, with an increase in modern furnishings used throughout the community.
10. This year will bring an increased focus on layered organic and geometric patterns, especially in flooring.