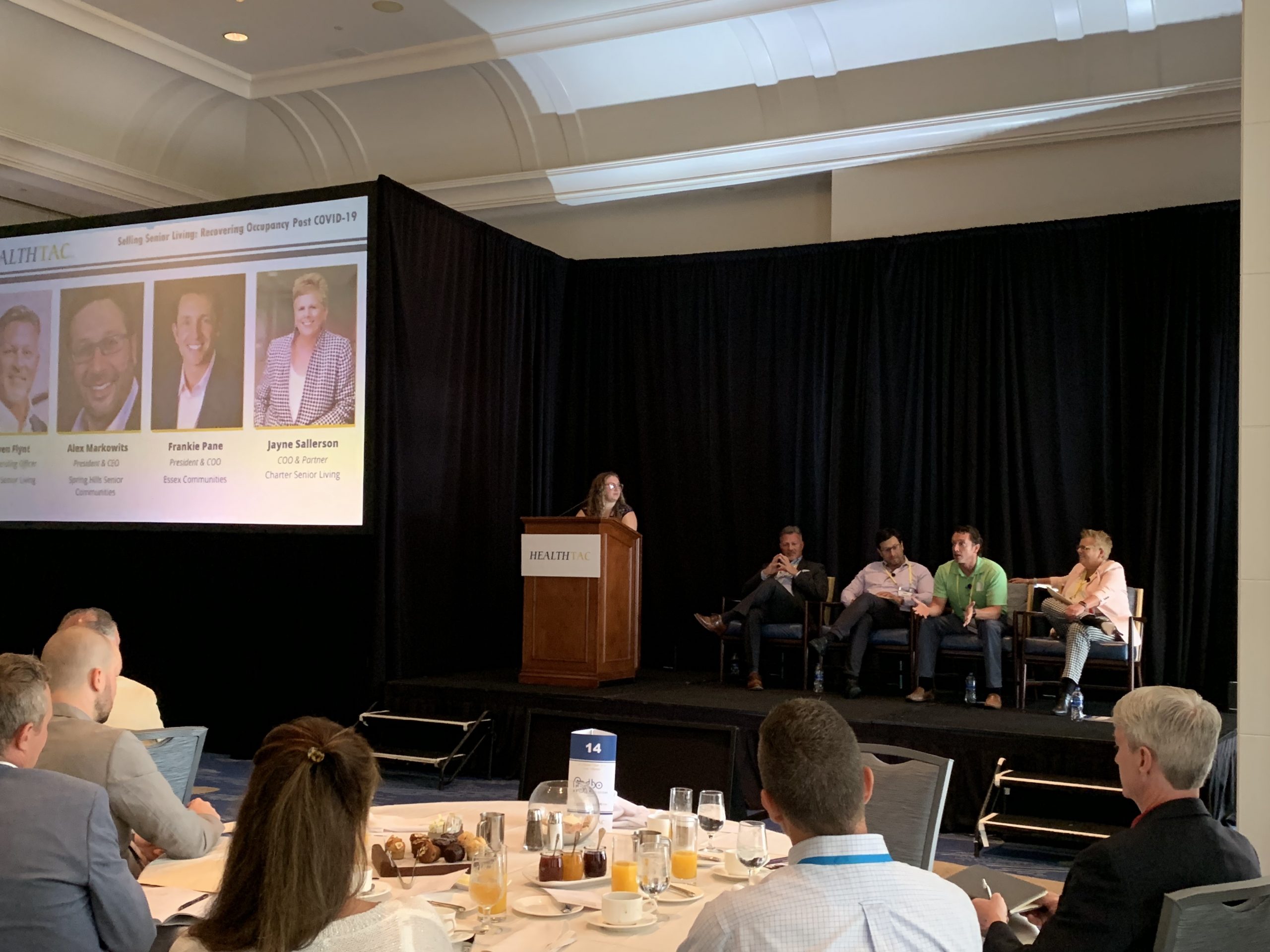 Editorial
Selling Senior Living: Recovering Occupancy Post COVID-19
By Olivia Beaton | July 14, 2021
At HEALTHTAC East 2021, industry leaders were once again able to come together and exchange insights and ideas. During the panel discussion "Selling Senior Living: Recovering Occupancy Post COVID-19" Steven Flynt, COO at Solstice Senior Living, Alex Markowits Founder / President at Spring Hills Communities, Frankie Pane, President & COO at Essex Communities, and Jayne Sallerson, COO at Charter Senior Living, discussed their strategies for making a comeback post COVID.
At Solstice, Flynt says in 2020 they lost about 5% occupancy, and he never thought he would say that enthusiastically, but after the last year, they consider this to be a win. "I am so proud of our teams, every day we were growing and learning, every day we were adapting. I've been in the business a really long time and thought I knew something, but the pandemic made it clear I really didn't know anything." Flynt was not alone in his thoughts, as his other panelists, and audience members agreed that the pandemic shook the foundations of senior living and forced us to adapt and start from scratch.
Sallerson echoed the sentiment that this year was most definitely the hardest year of her career in senior housing thus-far. Early on, she says, she made the decision to mask up, get on planes, and start visiting her communities following all proper protocols so her associates could see her and her team members rolling up their sleeves and trying to identify how they could get better as a whole. Though the struggle senior living endured was apparent, all of the panelists agree that there is a large demand now, and they are positioning themselves and their companies to be able to meet it.
As far as recovery goes, Sallerson says it best, "it's about getting back in front of people." So much of what is behind senior housing cannot be portrayed virtually, we are selling care, and homes, and bringing people back into the communities is a huge step in regaining momentum. Frankie Pane believes to move forward it is important to treat COVID-19 as a thing of the past, and within their communities they have been fortunate enough to resume to a full sense of normalcy. For him at Essex, "it's about selling the fact that the vibrancy and fun is back in our communities." Creativity was apparent over the last year and a half and the panelists discussed how important highlighting the happenings within their communities is to bringing new residents in the door, and bringing life back to current residents.
Markowits believes that transparency is key, in fact he says to over-communicate. Something he says will stick around in their post pandemic world will be the degree of communication he had with families, keeping them in the loop of what was happening within their communities and with their loved ones. He adds that "supporting my associates is paramount, making sure they have the resources they need to do their jobs." Spring Hills has brought in counselors and is looking into opportunities to continue to show their team members how valuable they are. After having 8 admissions in one month in a community in Ohio, Markowits finally feels like "a sunrise is coming."
It does indeed finally feel as though the sun is rising and the smoke is clearing, and Flynt and his team have brought on additional salespeople to prepare to meet the upcoming industry demand, and he is already seeing it within their communities. Sallerson raises a fantastic point, and notes that "It's very important for our salespeople to be educated and up to date on our safety protocols so they can address it if it comes up."
So how do we regain occupancy? To Pane, it's simple, "if you focus on fun, the people will come." People want assurance that their seniors are not only safe but thriving and enjoying life in their homes. From a marketing standpoint, the panelists agree that promoting the activities and quality of life within their respective communities is key to driving those occupancy rates up.
Sallerson and Flynt stressed the importance of taking down the stop signs, caution tape, and other signage that could be alarming to newcomers. Presenting the message that we are open and safe is crucial, but people want to see a sense of normalcy has returned. The psychological barrier is important to bring down, Sallerson notes these implementing these changes have allowed them to get ahead of occupancy and look forward to a brighter future.
Though the last year and a half has been challenging and uncertain, all of these panelists can say with certainty that the demand is here, and that the industry is coming back better than ever.