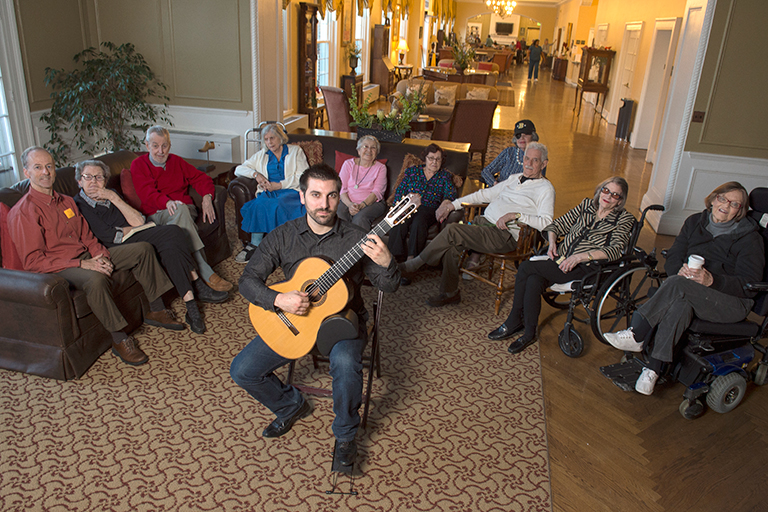 Getting In Tune With The Residents
Some savvy senior living organizations are pioneering new programs that bring top college music students into their communities to live and perform, enriching the lives of everyone.
San Antonio-based Franklin Companies began offering its Musician-in-Residence program this spring at its Franklin Park Sonterra and Franklin Park Alamo Heights locations featuring independent and assisted living.
"We are excited to be the first communities in the state to offer the program," said Luke L. Classen, president of Franklin Companies, a group of companies providing senior living housing and services. "The program provides talented student musicians with an opportunity to hone their music skills by performing for our residents in exchange for free lodging at one of our communities."
Inaugural students Carlos Guevara and Sean Kithas, both University of Texas at San Antonio (UTSA) music students, have had their scholarships renewed through the end of the 2017-2018 school year.
Under the direction of each community's life enrichment department, the musicians provide a minimum of three performances per week. The nature, format and genre vary, from recitals to sing-alongs, and may include formal concerts in collaboration with other musicians. Students are accepted into the program for one semester, and their participation is reviewed on an annual basis.
"At our communities, we empower seniors to live an active and healthy lifestyle, and accessibility to the arts and musical performances is an important part of this," said Classen. "The support, interest and involvement of our residents helps these young performers develop their talents while our residents gain inspiration from the students and have the pleasure of watching them grow personally and professionally. The envisioned result is meaningful relationships for all."
Guevara, a classical guitarist who also plays the piano, is musician-in-residence at Franklin Park Sonterra. He sees the program as a way to increase his experience performing before a live audience and to connect with diverse audiences.
Kithas, who learned to play the classical guitar at an early age from his father, is musician-in-residence at Franklin Park Alamo Heights. Besides further developing his performance skills, he welcomes the opportunity to live in a retirement community.
"The response has been tremendous, and the residents love these young gentlemen and the music," said David Ewing, Franklin Companies vp of senior living operations, who proposed the program after researching similar programs in other parts of the country.
"The students live amongst the residents, dine with them and really get to know them. It is a much more intimate arrangement than a performer simply making an appearance and leaving," said Ewing. "Of course, with a memory care setting, this just expands our already existing music therapy program, incorporating live music. The residents in memory care become intensely focused and gravitate to the music without having to be prompted. The power of live music is amazing."
At Franklin Park Round Rock, University of Texas at Austin voice student Amber Mercado has a musician-in-residence scholarship through fall 2017, also with the extension option. Interviews for musicians-in-residence are underway for Franklin Park Boerne and Franklin Park TPC Parkway.
In 2010, Judson Services, which operates three retirement communities in Greater Cleveland, launched its Artist-in-Residence program with Cleveland Institute of Music (CIM).
Following a long-standing relationship that regularly brought CIM students to perform for Judson residents, Judson officials approached CIM with a proposal—two one-bedroom furnished apartments for student living at no charge in exchange for student residents performing monthly concerts at all three Judson communities in Northeast Ohio and assisting with other musical activities.
Many residents had chosen Judson Park or Judson Manor because they wanted active, independent living in Cleveland's cultural epicenter, and Judson's arts and cultural programs are an important amenity.
The program was an instant success and has continued to flourish beyond anyone's expectations through three sets of student residents. More than a convenient living arrangement, the students and residents have built meaningful relationships that trump generational gaps. While students have shared their musical talents, residents have shared art lessons, cooking tips, career advice, and even relationship advice—two of the young women got engaged while living at Judson.
"They have put joy into our lives," one resident said. "It is the best thing that has happened to us." Two newer residents said the program was one of the reasons they chose to move to Judson Manor.
As for the students, "It is a wonderful deal for us," said violinist Caitlin Lynch, who was one of the first two in the program. "The people here honestly and truly became my family. The residents are incredible."
The students say their music and performing ability have benefited. While it's often difficult to get a practice room at CIM, at Judson they always have access to practice space and an appreciative, attentive audience—and a well-tuned Steinway grand piano and a recently restored 1902 Bechstein piano.
"Living there was a total blast," said violinist Molly Werts. "What appealed to me at the start was the chance to perform. We were eager to play as often as we could—from full recitals to casual impromptu performances." Werts reluctantly left Judson ahead of schedule earlier this year to accept a full-time position with the Rochester Philharmonic but knows she has a place to stay when she periodically returns to CIM to complete her master's degree.
Judson recently expanded the program to its Judson Park community, where pianist April Sun and violinist Nina Sandberg took up residence last fall. The residency program also has grown to include students from the Cleveland Institute of Art. Two young artists currently reside at Judson Manor, where they have introduced residents across the campuses to practices such as paper marbling, plaster casting, bookmaking and cyanotyping.
"Sharing our knowledge with the residents has been really rewarding," said Ryan Laganson, whose practice includes sculpture and expanded media. "Not only am I the teacher, but I learn from them as well."
In Baltimore, the Peabody Institute of The Johns Hopkins University connects Peabody Conservatory student musicians with residential facilities throughout the area willing to host a student in exchange for musical services.
The Musician-in-Residence program was started by Julien Xuereb, a guitarist who completed his Graduate Performance Diploma in May. Piloted at Springwell Senior Living, a Baltimore assisted living community, in 2015, it was expanded in 2016 with the support of a Dean's Incentive Grant from Peabody. Peabody currently has students placed at Springwell and Broadmead, an independent living retirement community.
"I'm not just learning about music. I'm learning how to be a musician," Xuereb said in a prior interview about the program. "I know that my music impacts people's lives."
Peabody musicians love having frequent and regular access to an audience with whom they can develop their performance and presentation skills and for whom they learn to program music.
Residents have ongoing access to the artistic process and creative practice through open rehearsals and conversations with performers. Music is delivered room-to-room to those who are unable to leave their beds. Special performances bring in guest artists including other musicians-in-residence who travel to each other's residences to perform and share experiences and best practices.
For Peabody, the program is a critical component of both its new Breakthrough Curriculum—which looks to help students develop connections to their community—and of its work to make music and rhythm an integral part of treating illness under the auspices of the Johns Hopkins Center for Music and Medicine. Both the student musicians and residents benefit from these relationships, and Peabody is committed to learning more about—and expanding—that impact.
Credit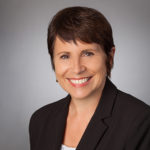 Cheryl Slavinsky
Editor
As editor of Senior Living News, Cheryl curates the news and writes a weekly feature story. She also plans the education portion of the HealthTAC events produced by Senior Living News and moderates the executive panel discussions. Cheryl has consulted with senior living clients for more than 20 years and served as senior public relations strategist for Varsity, a marketing and sales consulting agency focused on occupancy for retirement, assisted living and continuing care retirement communities (CCRCs)/Life Plan communities, and more. She previously managed national media relations as Rite Aid's director of public relations.