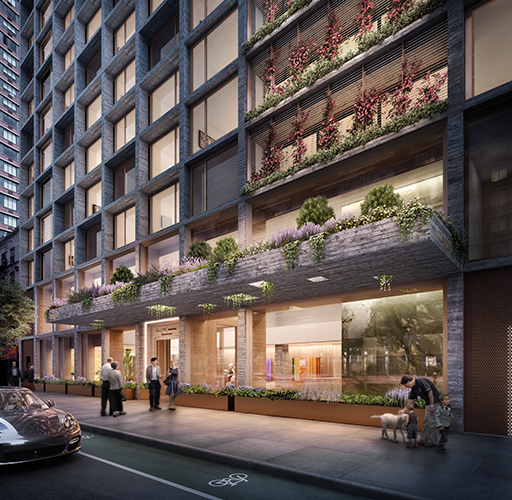 By Kerry | February 25, 2022
When Maplewood Senior Living and its capital partner Omega Healthcare Investors, Inc. debuted Inspīr Carnegie Hill in New York City last March, the opening marked a new concept in luxury senior living in urban centers. The community's physical spaces, care levels and resident experiences are all informed by insights from the residential, hospitality and healthcare sectors. However, this community is particularly revolutionary because of its technological advancements.
"Inspīr's technology is a result of the Center's work," said Brian Geyser, Inspīr's chief clinical officer. "When we were developing the Inspīr model, a lot of the focus was on technology that would achieve our mission and business objectives, so we spent a lot of time thinking through the building's technology and now it's filled with tech."
The heightened focus on technology is aligned with where the senior living sector is currently headed. According to the article "Five Ways Technology is Transforming Senior Living," published in Beckers Hospitality Review last April, after Covid-19, "technology adoption to address challenges in senior care is moving at warp speed, setting the state for an industry-wide transformation that, quite frankly, is already taking place."
But the emphasis on technology at Inspīr Carnegie Hill is especially noteworthy because it is a direct result of the work done by Maplewood's Center for Aging Innovation and Technology, which launched nearly five years ago and well before the Covid-19 pandemic.
"We really focused a lot of time and energy into deciding which tech products we wanted to offer at Inspīr and over time, we accumulated the products that are part of the Allī Tech Suite," explained Geyser. "Components of the suite are also used in Maplewood communities, especially the newer buildings."
The range of products in the suite reflect the Center's objectives to better manage health and wellness, improve safety and broaden social connectedness. Nearly a dozen total products include a mobile app, digital signage and an in-house TV channel, e-health records, a resident safety system, audio enhancement and live stream learning programs as well as Smart Home tech.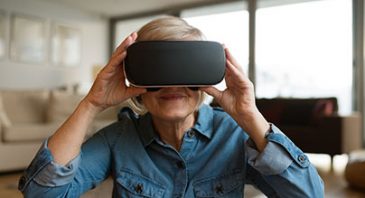 The tech suite also includes a virtual reality (VR) program that gives residents the opportunity to virtually travel to any destination in the world, from Paris and the Grand Canyon to the house where they grew up or the location where they got married –in their present-day form. Residents will virtually visit locales from their past with other residents in the room, prompting them to share stories about the place and ultimately, transforming the VR experience into social engagement with their peers.
"The joy that our VR program has brought residents and staff has been so substantial that it was unlike anything we've seen," said Geyser. "It's brought our residents so much happiness and we've had so much press since we launched it five years ago, that it's paid for itself many times over."
Now Inspīr is piloting a VR fitness program that comes with stationary bikes that allow residents to peddle through the virtual world that they are immersed in. So it's both a fitness activity as well as entertaining.
According to Geyser, Maplewood's Center for Innovation and Technology will often partner with startup companies that have emerging technology because it gives Maplewood "a voice in the design and development of the program, which ultimately benefits residents."
But there is also criteria for the technology in which Maplewood invests. Products need to solve for real problems like resident mobility issues and social isolation and the technology also needs to function at scale for Maplewood communities. Additionally, the technology should have proven return on investment (ROI) or a pilot that demonstrates potential ROI. It also cannot have a net negative impact on staff.
During the Pandemic, the Center invested in a fleet of robots that were deployed to each Maplewood community and to Inspīr Carnegie Hill. Each robot was equipped with a preconfigured tablet so residents could benefit from hands-free family visits, telemedicine and mental health visits. The robot would enter a resident's apartment with the virtual visit ready to begin. When the visit ended, the robot would depart independently and both the robot and the tablet would be disinfected before the next resident's appointment.
Communities also received additional fully-configured tablets so that multiple residents could virtually visit loved ones and medical professionals at any given time.
Residents also received training on tablet use. In fact, Inspīr Carnegie Hill has a full-time tech concierge who provides residents with technology. Geyser calls the role "a hybrid between an IT support position and a hospitality specialist."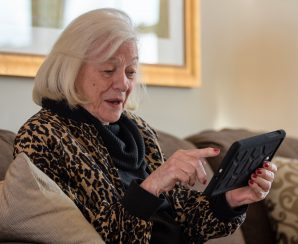 This Manhattan community is the only one in Maplewood's portfolio to have a dedicated tech concierge, but Geyser noted that other communities could benefit from having a tech concierge. He also expects a tech concierge to become normalized across the senior living sector in the next three to five years.
"We're currently exploring how to best incorporate a similar role in our Maplewood communities in a way that's tenable," he said. "I would venture to say that we'll have less trouble finding the right people to fill this type of role than we do on the care delivery and clinical side."
Inspīr is three times the size of a Maplewood building, so it's financially feasible for the community to sustain a full-time, dedicated resource. One possibility for creating a similar position at Maplewood locations, which are comparatively smaller communities, is creating the position to serve a region where Maplewood has a concentration of multiple communities.
While a second Inspīr location is under development in Washington D.C., Maplewood's Center for Innovation and Technology is working on an Artificial Intelligence (AI) based system that can help detect and analyze resident falls as well as a virtual registered nurse (RN) support center, which will employ RNs to provide virtual support to all Maplewood communities during overnight shifts.
The Center is additionally considering virtual urgent care solutions that will provide Maplewood communities with access to doctors and nurse practitioners to augment communities' existing access to in-house medical professionals with round-the-clock, seven-day-a-week capabilities. "We also want to have virtual mental health urgent care, too," Geyser added.