Messiah Lifeways Names Christina Weber as VP, Human Resources & Community Support Services
Messiah Lifeways is promoting Christina Weber to Vice President, Human Resources and Community Support Services.  Weber joins Executive Leadership at Messiah Lifeways after eight years with the senior services organization overseeing its home and community-based services. This promotion comes after Karl J. Brummer vacated his Vice President role to become President & CEO on September 13.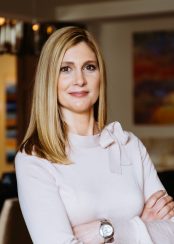 Weber has an impressive track record of supporting older adults in the community and on campus through her work with Messiah Lifeways Community Support Services ("CSS"). With CSS she focused on building a stable and engaged workforce that is trained to offer high quality service through Messiah Lifeways At Home, the organization's non-medical home care agency, Adult Day Services, and its two senior centers. Under her leadership, At Home received a variety of awards and recognitions as a high quality service provider in Pennsylvania.
Weber holds a Master's Degree in Social Work from Temple University and is a graduate of Goshen College with a Bachelor of Arts in Communications and minors in art and business. A licensed social worker, Weber was a 2019 LeadingAge PA Leadership Fellow, and is an active member of Grantham Brethren in Christ Church. Christina and her husband, Justin, reside in Dillsburg with their four children.