October 11, 2023
In a recent joint report by the Age of Majority and the International Council on Active Aging, we discovered that early this year about 1,000 people over the age of 40 were surveyed about senior living communities, and when these potential future residents were asked to describe what it's like at these communities, depressing, boring, and stagnant were the words most often used.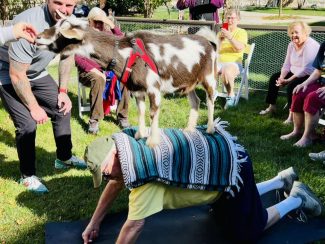 Excuse us, but what part of goat yoga sounds depressing or boring?! Asking for a friend.
The residents of Oak Trace senior living community in Downers Grove, Illinois, know the answer. No part of goat yoga sounds depressing or boring! Natures Trail Yoga in nearby Orland Park recently brought five goats to interact with a dozen Oak Trace residents practicing yoga at this community about 30 miles southeast of Chicago.

Since 2016, goat yoga has become an international thing. That summer, in Monroe, Oregon, a rural farming community equidistance from Eugene to the south and Corvallis to the north, the first goat yoga session took place with no fanfare — and soon it was a global sensation. The beginnings of goat yoga were humble enough: Local farmer Lainey Morse engaged in nightly goat walks, aka Goat Happy Hour. When an area yoga instructor requested to hold a yoga class on Morse's farm, goat yoga was born. For fun, Morse sent some pics to Modern Farmer magazine. And fun she had, as interview requests started coming in from far and wide.
If you're wondering, no goat yoga isn't yoga for goats. Rather, it's yoga with goats. Picture yourself in your favorite yoga pose having to work around a goat that has decided that your yoga mat is the perfect place to lie down. Or your back is the perfect place to stand. That's goat yoga.
Jessica Lazzara, the lifestyles director at Oak Trace, knew the residents were always eager to try new things. Enter goat yoga at Oak Trace and enter loads of fun for the age 70-plus residents whose inner children played with and were walked on by the goats. Yoga, of course, is good for our overall wellbeing, and it's even better when a real live goat is staring you right in the eyes as you're holding your table top pose.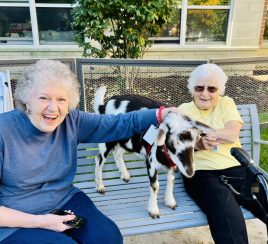 Anyone who thinks senior living communities are depressing, boring, and stagnant has never done goat yoga at Oak Trace, because let's be honest: There's nothing boring about petting a goat.
Oak Trace, a life-care community owned by Lifespace, a not-for-profit organization with more than 45 years of experience in senior living, occupies more than 40 acres of landscaped grounds featuring gardens, walking paths, ponds, and abundant greenspace. It features private independent-living apartments, as well as assisted living, memory care, skilled care, and rehabilitation.