The Human Element
Heritage Pointe of Warren Resident Sees the Country Through Walking
October 4, 2023
WARREN, IN — Moving our body every day is beneficial. It's well documented. As a weight-bearing exercise, walking can increase heart and lung fitness while reducing the potential for heart disease and stroke. High blood pressure, high cholesterol, joint and muscular pain or stiffness, and diabetes can all be improved by a regular walking regimen. Walking helps build stronger bones, it can improve balance, increase muscle strength and endurance, and reduce body fat. A brisk, 30-minute walk every day (or most days) can do all that.
How to get in all that walking? Try taking the stairs instead of the elevator for at least a couple of floors. Or get off the bus one stop before your usual stop and walk the rest of the way. Or instead of relishing that parking space right up front, try choosing a space across the parking lot.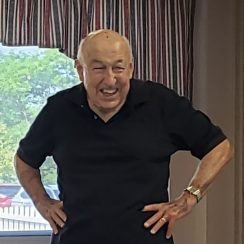 Or you can do what Jim Schwartzkopf does. According to a press release, the 86-year-old independent-living resident of Heritage Pointe of Warren in Warren, Indiana, walks every day — no matter what. And he's been on his feet for decades.
It all started for Schwartzkopf when he was quite busy as a school principal. Imagine that workload. Schwartzkopf knew he wasn't doing himself any favors with his overwhelming schedule, so he decided it was time to figure out a way to focus on his health.
"I started out running in 1981," he said. "I felt like I needed to feel better and get into better shape."
Avid runners know that was a great idea. Except for one minor little detail.
"I didn't particularly like it," said Schwartzkopf.
Okay, so running isn't for everyone, but he set some goals to keep himself engaged in his newfound activity. Not the kind of goals that most of us runners set, though. No marathons, 5k's, or personal bests for Schwartzkopf. Rather, he was interested in doing a three-miler in every state capital, including Hawaii and Alaska. Selfies snapped at each of the capitals in which he ran was a great souvenir of his experiences.
Today, the part-time substitute teacher figures he's got more than 20,000 miles on his running shoes, hoofing it on the roads and streets throughout Indiana, including to each of the state's 92 county seat courthouses, which he maintains has kept his body in good shape.
"What I enjoyed was meeting the goals. I enjoyed feeling good, too."
But weren't we talking about walking?
Today, Schwartzkopf is an avid walker, having relegated running to his rearview mirror. These days, his goals include walking at least 5,000 steps a day. And he manages this thanks to the proximity of Heritage Pointe of Warren to his doctor, the store, and the school where he works, and thanks to the community's walking trails. And when the weather isn't conducive to an outdoor walk — Indiana's climate ranges from cool and rainy in the spring to humid and hot in the summer to subzero temps with heavy snow in the winter — Schwartzkopf gets his steps in at the community's fitness center or in the hallways.
"I stop in and visit with people," he said. Visiting with people? So, in addition to all the benefits of walking listed above, it turns out walking is also good for our social wellbeing.
Heritage Pointe of Warren is in a country setting, situated on a 200+ acre rural campus featuring an on-site golf course, heated indoor pool, fitness area, woodshop, and more. Heritage Pointe of Warren offers independent living in villas, townhomes, or apartments. Assisted living, memory care, short-term rehabilitation, outpatient therapy, and long-term skilled care are provided on the same campus. Heritage Pointe of Warren is owned and operated by The United Methodist Memorial Home, an Indiana nonprofit founded in 1907.