Personnel
Ramos Elected Chair of Board of Trustees of LeadingAge Massachusetts
October 18, 2023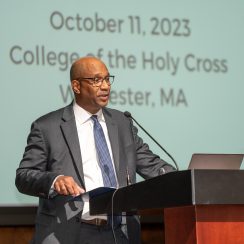 BOSTON, MA — Walter J. Ramos, JD, has been elected chair of the board of trustees of LeadingAge Massachusetts. A healthcare administrator for over two decades, Ramos is president and CEO of Rogerson Communities; he has served on the LeadingAge Masschusetts board of trustees the past four years, and he is also treasurer of the national board of directors of LeadingAge in DC.
"Walter Ramos has been a tremendous contributor as a member of our board of trustees where he has been instrumental in helping to shape our updated strategic plan," said LeadingAge MA President Elissa Sherman in a press release. "Walter brings strong leadership and valuable insights from his past roles in healthcare and government in addition to his experience leading Rogerson Communities for over five years."
"I am honored to take on the additional responsibility as chair of the board of trustees of LeadingAge MA," stated Ramos. "I know that my experience in healthcare, and specifically leading Rogerson Communities, a network of senior living communities, will be fundamental to my new role. I look forward to setting the agenda for advocacy on Beacon Hill and for bold new initiatives."
"As incoming chair of the board of trustees of LeadingAge MA, I want to focus my tenure on ADVOCACY — a paramount goal in our strategic plan," Ramos said when accepting his new role at the annual meeting of the LeadingAge MA membership. "I want to encourage each of you to join me in this effort, advocating for our agenda before federal, state, and local government. Let's begin together this new effort to educate and advocate for the people we serve. Through these efforts we can build a more positive profile of aging service providers. We must advocate for a strong understanding that our membership is truly mission driven. It is not enough to describe ourselves simply as non-profit entities. We are people driven, not profit driven. We have a purity of purpose. I look forward to working with all of you in the year ahead to make ADVOCACY our mantra."
LeadingAge Massachusetts is a trade association dedicated to supporting the work of not-for-profit aging service providers. With over 200 member organizations serving more than 30,000 older adults across the Commonwealth, the association focuses on meeting the needs of older adults. LeadingAge MA serves the full spectrum of aging services providers in the state, providing the tools, resources, and knowledge to help its members tackle their day-to-day challenges, while empowering them to think strategically about the future.
Rogerson Communities is a network of senior living communities that provides affordable housing for older adults, memory-care and healthcare services through its 30 properties and programs in greater Boston and beyond.