By Caroline Chan | October 25, 2022
For families and residents who are new to the senior living space, it can be overwhelming at first. There's so much to learn about, and they may have tons of questions about how the process (among other things) works. Even families and residents who are very familiar with senior living may have questions; it can be an ongoing learning process.
In response, The Arbor Company started a series of videos and podcasts to help answer some of those questions.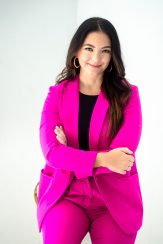 "Senior Living LIVE is a digital library that covers all topics—timeless and trendy—across senior living, and connects viewers and listeners directly to industry professionals that can answer their questions," said Mary Cate Spires, marketing consultant for The Arbor Company.
It was available before the pandemic—albeit, in a more limited way—but COVID really encouraged building out the platform. "Once our communities first found themselves facing social distancing and visitor restrictions and lost the ability to provide in-person seminars and events, our leadership team made the decision to invest in Senior Living LIVE," said Spires. "[This became] a way to assist our local leaders to continue reaching current and potential residents, their families and professional partners in a safe way."
Additionally, now the information could more easily reach a national audience, instead of primarily a local audience; they started getting viewers from about a dozen states. As such, the company worked to improve production quality, transcribe and translate the videos (with live captions), increase the amount of content produced and continue featuring top-notch industry experts. They've also implemented user-friendly navigation and a keyword search database on the website. And last year, they started producing podcasts as well.
"We've taken great care to make Senior Living LIVE a resource that is not only engaging, but also available to a wide audience," Spires said. "These improvements and more allowed our local teams to maintain their status as trusted advisors and senior care leaders in the communities they serve."
The two main types of content that Senior Living LIVE produces are live webinars and pre-recorded videos. However, the initial process is the same.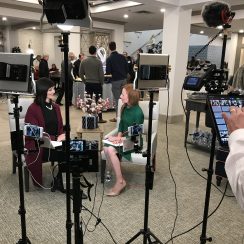 "Developing a Senior Living LIVE episode actually begins with the seniors we serve," explained Spires. "Our team first brainstorms relevant topics based on the common questions we receive from seniors and their families. That is how we determine what is timely and needed among the community. We try to aim for a balance between questions that serve the general population, with more niche, narrow topics we know will be helpful to members of our audience."
From there, they reach out to industry leaders both within and outside the company to be featured guests on the platform—for either the webinar or the pre-recorded videos. "We are always looking for industry experts and leaders to share with our audience," Spires said.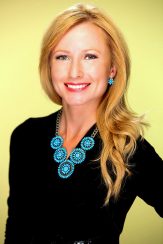 With the webinars, Melissa Lee (the host of Senior Living LIVE) introduces the expert, who then presents on their given topic. Afterwards, Lee leads the Q&A portion and picks questions from the live chat for the expert to respond to. And the Q&A part often lasts well past the scheduled end time, with attendees asking a lot of related questions.
This has shown the team just how important these videos are. "[It] challenges us to create content that matters to our audience," Spires said.
The pre-recorded videos work a little differently. "These episodes are brief interviews between Melissa and industry experts on a topic in senior living/care," said Spires. "[These] give us another way to provide education on topics that might be more specific, or appeal to a more niche audience."
Speaking of the audience, Spires explained that these videos are geared toward and created for anyone in the senior care community, as well as anyone who needs senior care resources. This includes current residents, potential residents, family members, caregivers, professionals who provide services for seniors and more.
"Because the program is offered to the public free of charge, our teams are able to provide these resources instantly to any member of the senior community in need of education or solutions," said Spires. "This allows them [the content] to have a larger impact on the senior community."
And being able to help those in need is her favorite part. "The best part about Senior Living LIVE is how successful it has been in providing useful information to the people in need of those resources," she said.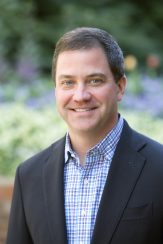 Judd Harper, president of The Arbor Company, agreed. "We're very proud of what we've built with Senior Living LIVE," he said. "It has grown into a valuable resource for connecting seniors and their families with experts, and given our Arbor team a way to provide information and stay connected to the communities we serve."
For Lee, her favorite part is getting to meet a wide range of industry experts—and seeing their effect on the Senior Living LIVE viewers. "It has given me the chance to meet so many wonderful professionals—all leaders in their respective fields—and also witness the impact they've made in the lives of our audience members by taking the time to answer their questions and share their knowledge in senior care," Lee said.
However, it's not always industry experts that are featured in the videos. Spires' favorite one highlighted one of their residents, Brandt Ross.
"This was a fun webinar because Mr. Ross is such a colorful and interesting person! He shared his very personal journey with making the move to senior living, and the network of friends and support he and his wife found at Arbor," Spires said. "Best yet, he is an incredible musician who incorporates song into his presentations. It really is engaging!"