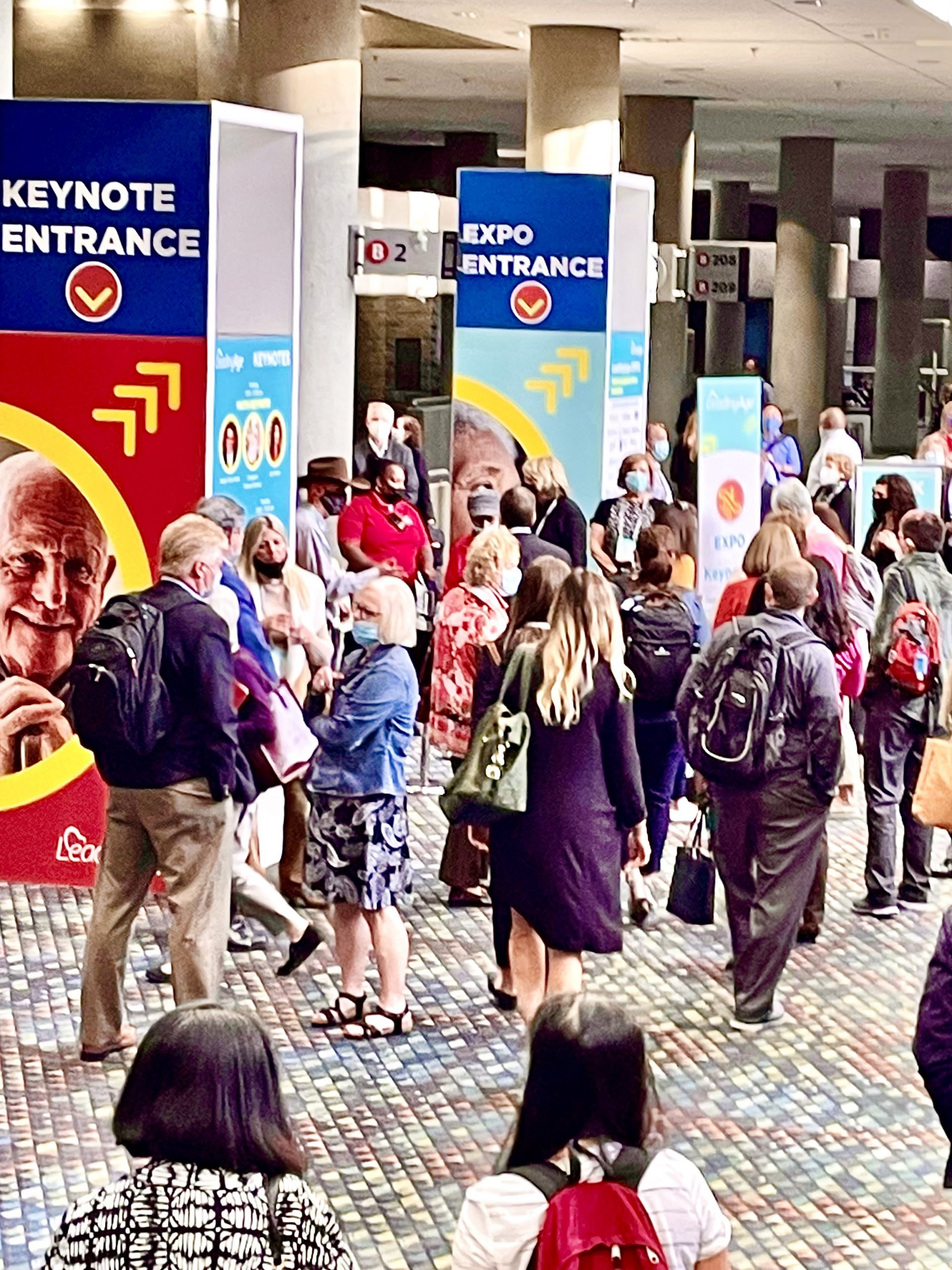 By Kerry | October 29, 2021
This past week, LeadingAge held its first in-person annual conference and expo since 2019. Ongoing Covid concerns among some members kept attendance levels below what they had been at LeadingAge's 2019 conference in San Diego. But from Oct. 24 to 27, 2021, the halls of the Georgia World Congress Center in Atlanta were still abuzz with attendees heading into over 100 educational sessions while the expo floor was filled with booths representing nearly 300 businesses.
This year's conference theme "For Them, For You, Forward" was a clear indicator that the senior living industry is moving past the pandemic. Upon his formal appointment during the conference, LeadingAge's new Board Chair Mike King, national president and CEO of Volunteers of America (VOA), acknowledged the challenges that the pandemic has posed on senior living communities, promising "to help members through the pandemic and beyond."
Changing Perceptions of Aging Services
LeadingAge also unveiled its new "Opening Doors to Aging Services" initiative. The three-pronged program will include original research, a communications strategy and campaign resources designed to bolster a positive image of the aging services sector among the public as well as Washington, as it continues to debate funding support.
"One thing that really hits home for me with this campaign are the words we use to talk about our field," said Daniel Reingold, president and CEO of New York-based RiverSpring Living. "Let's agree that we work with older adults and agree that it's not just about them, but about all of us because we're all aging. These are the kinds of concepts that Opening Doors brings up."
As senior living communities throughout the country suffer labor shortages, Reingold pointed out how the Opening Doors initiative will prove valuable in educating workers about careers in the field. "It's also time to remind the workforce that working with older adults living in communities is rewarding, noble and fulfilling work," he said.
Acknowledging Workers
LeadingAge also honored professional caregivers from three Atlanta area communities with the "Joyful Hearts" photo exhibit, which opened to the public on Oct. 24 in Centennial Park.
The installation featured the work of photographer Heidi Wagner with photo portraits of professional caregivers from A.G. Rhodes, Lenbrook and Presbyterian Homes of Georgia who were each recognized for their daily commitment and dedication to residents. According to Lenbrook's Vice President Operations – Hospitality Services Felecia Sveda, looking to the future also means continuing to show gratitude, support and inspiration for team members. "The photo exhibit was a great way to profile the people who showed up every single day and who demonstrated their loyalty to our residents," she said. "They gave us a gift, without which we wouldn't have survived and now, we continue to count on them as we head to the future."
Diversity, Equity, Inclusion
With the future of the workforce in mind, diversity, equity and inclusion (DEI) were also a strong component of LeadingAge's "Forward" theme. Of four keynote addresses, one was wholly dedicated to "Building a More Just and Equitable Future." Speaker Glenn Harris, president of the racial justice non-profit organization Race Forward told session attendees to remember that DEI is not just about institutionalizing relevant policies and procedures within a business structure. "It's people's stories," he said. "It's their lives." He went on to talk about his own childhood, growing up as a biracial child during the 1960s. Educational sessions like "How to Start Talking about DEI" and "How Do We Move Toward Racial Equity?" also gave prominence to the topic.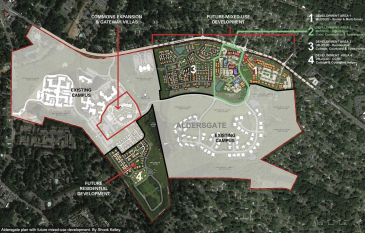 But it was one of the conference's final educational sessions that highlighted the established DEI work of one non-profit senior living community. During the session "Linking Planning and Design for a Community-Based Naturally Occurring Retirement Community (NORC)," Aldersgate Life Plan Services President & CEO Suzanne Pugh discussed the strategic planning process that went into creating a new 44-acre mixed-use development on the community's 231-acre campus in Charlotte, North Carolina. The new neighborhood will include affordable housing, single family and townhomes, for diverse price-point housing in addition to retail and public spaces. Aldersgate describes its campus as "Diversity by Design."
Some of those new homes are intended to serve Aldersgate team members who may suffer from under housing while the immigrant and refugee populations that make up most of surrounding East Charlotte are already coming to Aldersgate where their children are enrolled in an afterschool program and where an annual international sandwich festival is served by many of the area's ethnic restaurants and local musicians who all helped to attract 3,000 event goers when the festival last took place, pre-pandemic.
"We had a commitment to diversity, equity and inclusion before it became a focal point in the media," Pugh said. "I hope our commitment sets a trend in our field because it's necessary and it's also the smart thing to do and the right thing to do."
But the commitment is not only to the local community, but also to enriching the health and wellness of Aldersgate's older adult residents who are encouraged to connect with the local population. Already, residents participate in the afterschool program and they'll have more opportunity to get involved as campus services and offerings for immigrants and refugees expand.
Pugh went on to explain "our residents now have a greater awareness and understanding of the immigration experience because our afterschool program has over 70 countries represented."
Residents benefit from greater engagement with the locals who come onto Aldersgate campus and likewise, locals no longer view Aldersgate as a closed community that's off-limits. "Our residents have newly formed connections through one-on-one interactions with people who live in surrounding low-income communities and black and brown neighborhoods and it's helped everyone to recognize that we're all people with bridges in common," Pugh added.