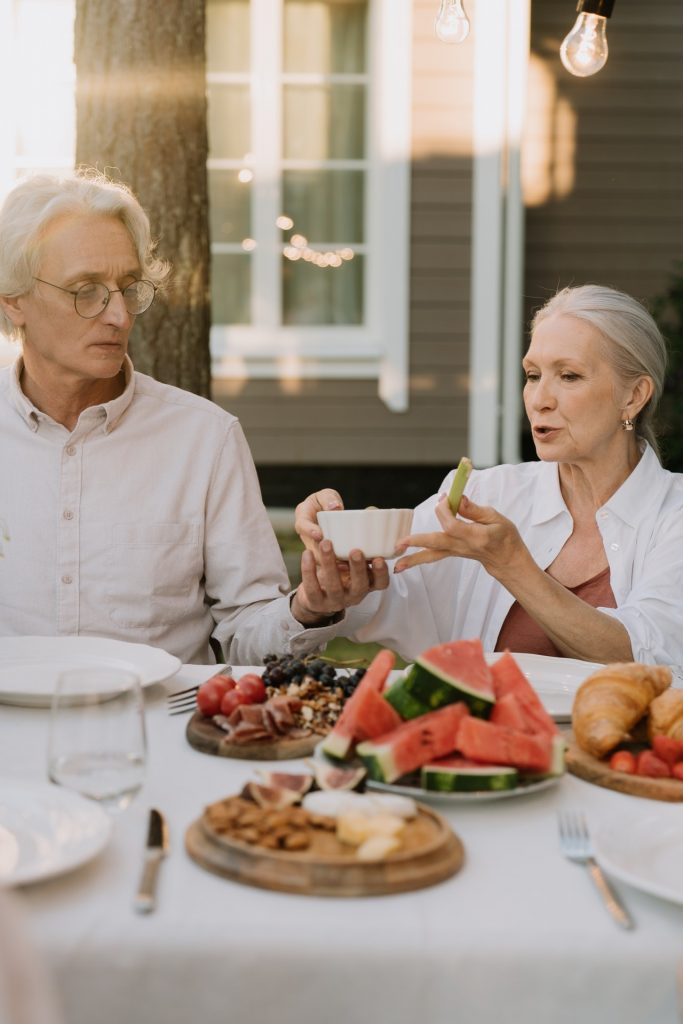 Covid Continues to Inform the Future of Dining
Despite the impact of the Covid-19 pandemic on dining operations in the senior housing industry, the dining experience remains as important –if not more so—to residents and their families.
In fact, the J.D. Power 2020 U.S. Senior Living Satisfaction StudySM, released last November, found that dining remains a priority. "For independent living residents, factors such as activities, dining, staff and cost are of similar importance," said Andrea Stokes, hospitality intelligence lead at J.D. Power.
Inviting Family Members
Community management teams are also recognizing how impactful the dining experience can be. At Integral Senior Living, new properties are designed to feature dining spaces that appeal to residents as well as their families. Rooftop bars and exhibition kitchens are intended to both draw residents into community spaces to socialize with each other and to entice their family and friends to come visit. But National Director of Culinary Service Amy Robinson explained that creating spaces that drive multi-generational inclusion will hopefully encourage "family members to think about what's next on the horizon for themselves."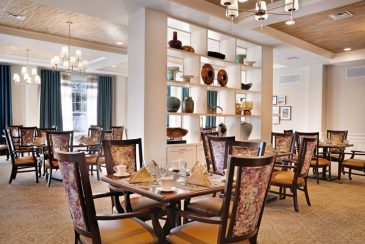 Sunrise Senior Living encourages family members to join residents for community programming such as the food-based activities and experiences offered each month. "Many of these events involve an element of learning – perhaps about the nutritional benefits of a specific ingredient or about the food of a specific culture or region," said Caitlin Rogers, vice president of dining and senior nutrition services. "Our talented chefs also often hold live cooking demonstrations where they can field questions from residents and families as they prepare a unique item."
Grab 'n Go Revenue
Integral Senior Living's approach to family members is also informing its communities' to-go dining options. As the pandemic loosens its grip on community operations and subsequently the day-to-day lives of residents, the company will keep grab 'n go and dining delivery for the long-term. Residents want the option as well as the convenience of dining in outdoor space or picking up lunch on their way back from a doctor's appointment. Family members can also come in for a visit, place an order with the culinary department and pick it up on their way out. "Visiting family members don't have to worry about going home to make dinner or stopping on the way home to pick it up," said Robinson. "This has encouraged greater participation from family members coming to visit, which our residents have severely missed over the past 18 months."
Presbyterian Senior Living is expanding its quick casual dining choices. A self-service convenience store is in the works as part of a major renovation at one of its communities, giving residents and staff the option of avoiding lines by purchasing their items at self-checkout.
The Cost of Delivery
Corporate Director of Dining Services Gary Toscano is confident that "fine dining will become a thing of the past and more choices and a more robust delivery and take-out program are what lie ahead."
Delivery and to-go at Presbyterian Senior Living communities extends to "take and bake" items in addition to meal kits. But it's delivery logistics are posing a potential roadblock to the future of the service. "Maintaining a delivery program for the long-term has the unique challenge of established expectations from residents," Toscano said. "Since the beginning of Covid, our communities have been delivering meals for free, which is not a sustainable model."
Ongoing Labor Challenges
But a charging of fee of even $5 per delivery will leave residents displeased. Compounding that is a staffing issue, with Toscano noting that "there's also the current problem of finding a person to do deliveries."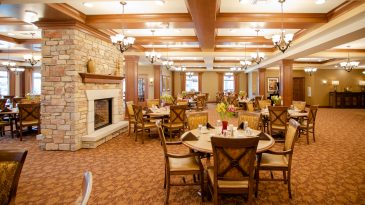 Of course, staffing deficiencies are confounding the senior housing industry and New Perspective Senior Living is no different. According to Doug Anderson, vice president marketing and communications; culinary services, the organization's culinary directors are also contending with labor shortages.
To that end, New Perspective is emphasizing the benefits of careers in senior living to those currently employed in the hospitality industry. Presbyterian Senior Living is looking beyond a human workforce; the company is now in the process of purchasing robotic servers. New Perspective is also implementing changes that are designed to solve its challenging labor environment.
A Return to the Dining Room
Yet, residents are responsible for the move away from meal delivery and pick-up. Anderson explained that most residents are back to enjoying meals and interacting in the dining rooms again. "This is vitally important since, for most, meals are the biggest social events of the day," he said.
Rogers concurred. In-room dining gained traction throughout Sunrise communities during the pandemic and Rogers expects that trend will continue, but not without mentioning how communal dining contributes to an active, vibrant and engaging way of life for residents. "It's incredibly important for the social, mental and physical wellbeing of all residents," she said. "So offering a variety of welcoming, safe dining environments and activities, menus and special events for our residents to enjoy, will always be a priority."
Changes Driven by Supply Chains
In addition to a diminished workforce, supply chain issues are also affecting kitchens across the senior living industry. The five-week cycle menus that allowed Toscano and his team to plan ahead now change on any given day or week, based on supplies. "With the pandemic and supplies being hit or miss, we must constantly be ready for change," he said.
New Perspective is also making purchasing decisions based not only on the fact that some items are in short supply, but also price increases. Subsequently, the group's culinary department has taken a hard look at its core products and pre-cooked foods have taken a backseat to freshly preprepared meals. Anderson noted, "we're doubling down on avoiding ready-made products and embracing our made-from-scratch approach, particularly with center of plate items."
Healthy Dining
An emphasis on nutrition remains at least one constant for the senior living industry's culinary departments. Menus at more than 100 Integral Senior Living Communities across 23 states are dietitian-approved and have been for well before Covid-19 become part of the common lexicon.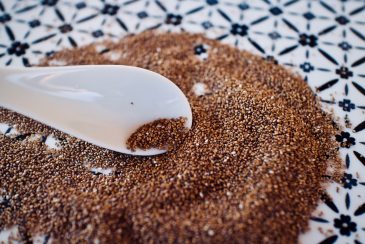 However, Anderson pointed out that at New Perspective communities, "there is a heightened interest in healthy eating now compared with the last few years." Avail Senior Living in Cleveland, Tenn. doesn't have a previous point of comparison. Since the community's July opening, tables in the community's two dining rooms have been socially distanced and all meals are plated. On those plates is a weekly selection of ancient grains and superfoods. Dining Services Director Ms. Terri Myers said that the culinary team tries to serve as many scratch meals as possible. "There are a lot of things to consider like not serving too much gluten and making sure the vitamin and carb balance is correct," she said, adding that residents are sometimes introduced to new ingredients like parsnips or kale chopped, although they aren't forced to eat it. "When we introduce a new ingredient, we ask our residents for feedback and if they like it, we'll keep it for the long-term," she added.
Over time, Sunrise Senior Living has been adding more vegetarian choices, plant-based proteins, whole grains and locally grown fresh produce to its menus. Like Avail Senior Living, residents' feedback determines if each new ingredient will appear on future menus. The mission, according to Rogers, "is to listen and respond to feedback quickly, making adjustments to meet the needs of our current residents."
Credit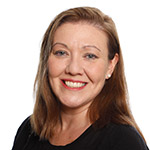 Kerry Medina
Senior Editor
Kerry Medina is Senior Editor of Senior Living News, parent company of Senior Community Forum. With a journalism degree from NYU, she has more than 20 years of experience as a journalist and content marketing professional, continuously focusing on B2B marketing and communications. In her current role, Kerry covers the senior living sector for SeniorLivingNews.com and SeniorCommunityForum.com and also moderates executive-led panel discussions at industry leading events.