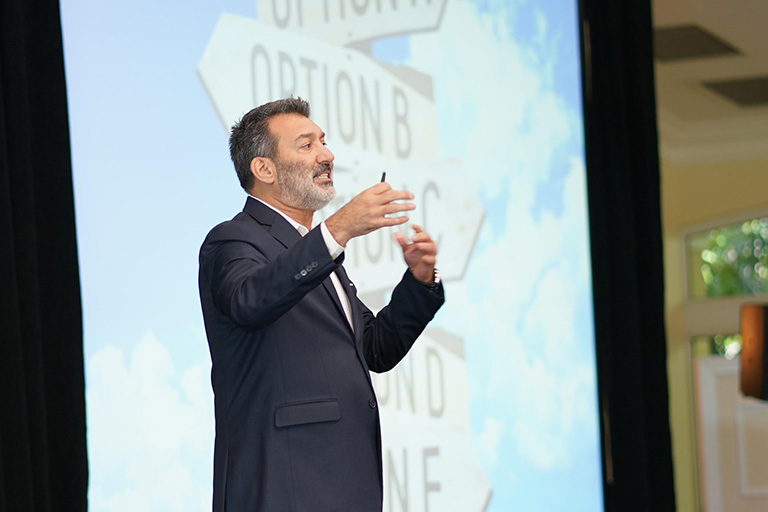 HEALTHTAC Exceeds Expectations
The focus was on the future at HealthTAC East as top aging services professionals delved into leadership trends and the community, residents, and products and services of tomorrow.
Held at the Trump National Doral Miami, the high-level event brought together top industry decision-makers and suppliers in an environment designed to maximize productivity, according to senior living and health care executives.
Packing in two sessions with Keynote Speaker David Avrin, known as The Visibility Coach; four executive discussion panels providing Continuing Education credits approved by NAB; and meetings with suppliers of products and services, HealthTAC helped facilitate meaningful relationships.
"In the past five years, I have never taken this much time to step away from my business to participate in an immersion event like this that allowed me to focus on improving my business," said Jeremy Cole, CEO, Blake Management Group.
Cole applauded the speed dating format, specifically calling out IncreaseCensus.com for what he learned in just 15 minutes.
Speaking on the "Leadership Challenges and Emerging Leadership Models" panel with Chris Schott, EVP, Alcore Senior Management, and Aaron Catoe, regional property manager, 12 Oaks Senior Living, Cole talked about digging deep to find and fix employee satisfaction and challenges of operating in a constant start-up mode.
"In our view of the future, those operators who can align themselves tightly to the capital and asset teams, who respect operations and challenges that face our industry, will thrive long term," Cole said.
Catoe was surprised by the relational connection he experienced with suppliers and other operators.
"I had heard HealthTAC was geared toward fostering relationships but did not realize the effectiveness until I experienced the conference first-hand. The kindness and openness of the other operators' willingness to share was encouraging to me," Catoe said. "I appreciated the opportunity to gain insights and discuss and compare how other operators are structured, including the home office structure."
Joe Jasmon, CEO, Shepherd Senior Living, talked about eliminating a "corporate office" and working out of one of his organization's communities, being close to those who are doing the work. He spoke on the "Workforce-Centered Design and Operation" panel with Bebe Reed, director of healthcare operations, Griffin Fine Living, and Eric Hadley, president, Wayfinder Management.
Jasmon also talked about empowering staff to say 'yes' to every request a resident makes "because they ask so little of us" and involving more than just activity staff in resident activities. A maintenance worker who's a fantastic guitar player runs an activity that's all about him with residents two to three times a week. A lot of activity happening organically is helping keep staff and resident interest and morale high.
"It was refreshing to put business on hold for a few days. This was not just another conference where everyone is buried in their phone and computer, bringing all their work with them. This was real face-to-face relationship building," Hadley said. "And if I'm buying something like chemicals, for example, I'll likely choose the company with whom I made a connection here."
The "Product and Service Innovations for the Future Resident" panel featured Jack York, president/co-founder, It's Never 2 Late; Alicia Jones, principal and founder, West End Interiors, LLC; Melissa Spaeth Banko, principal and owner, Banko Design; and Jamie Thorn, national sales manager, Forbo Flooring Systems. The panelists collectively agreed designers and suppliers should be involved early in the development stage for better pre-planning to program correctly, especially with rising acuity levels, older residents and increased memory care needs.
Some of the panel's advice: think through everything from technology to furniture to flooring to create functional environments. Understand product finishes and why consideration of life cycle can increase ROI and decrease resident disruption due to replacement and renovations. Get the operations team involved early in planning and design. Let designers educate you about new products like tactile and interactive art in memory care. Pay attention to the health, safety and comfort for staff, as well as residents, because it pays off in retention.
"Figure out how to keep residents engaged and connected and relevant—that's what technology has the ability to do," York said. "Challenge yourself and talk to your 20-somethings as to what should be happening with programming. The future will be voice and robotics and incredibly cool things that not only change the resident, but let you attract a younger worker that's going to be jazzed to work in your community."
Joshua Crisp, founder, president & CEO, Solinity; Jeff Lefkovich, managing principal, Heritage River Village Development LLC; Van Cluck, president and chief development officer, L4 Lifestyles; and Gary Jones, director of national sales, RCare, tackled "Re-imagining the Community of Tomorrow." The group discussed factors that will force the industry as we know it to change, multi-generational concepts, more affordable offerings, purposeful living and how the use of technology can facilitate such.
"Based on conversations with Josh, Van and Jeff, the reality of it is, there won't be any cookie-cutter model like we've seen previously," Jones wrote as the discussion continued on LinkedIn. "It will be dependent on the market and will likely manifest differently in urban, suburban and rural environments. It could look like a CCRC but also like an AL/MC. In some areas it may contain more retail space than others. Workers in those retail spaces may opt to live in the community. There are a lot of possibilities. I love learning from the other guys and focusing on how we can use technology to drive some of this."
HealthTAC West 2018 will be held August 19-21 at Monarch Beach Resort, Dana Point, CA. For information visit, www.healthtac.com. To learn about speaking opportunities, contact Senior Living News Editor Cheryl Slavinsky here or at 717-433-0406.
Credit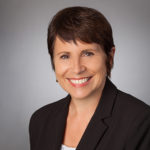 Cheryl Slavinsky
Editor
As editor of Senior Living News, Cheryl curates the news and writes a weekly feature story. She also plans the education portion of the HealthTAC events produced by Senior Living News and moderates the executive panel discussions. Cheryl has consulted with senior living clients for more than 20 years and served as senior public relations strategist for Varsity, a marketing and sales consulting agency focused on occupancy for retirement, assisted living and continuing care retirement communities (CCRCs)/Life Plan communities, and more. She previously managed national media relations as Rite Aid's director of public relations.