Riverwalk Village at The House of the Good Shepherd's Voorman Earns Future Horizon Award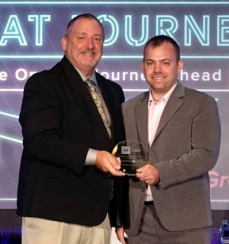 HACKETTSTOWN, NJ — Christopher Voorman, director of culinary services at Riverwalk Village at The House of the Good Shepherd, has received the Future Horizon Award from the Association for Healthcare Food Service. The award recognizes those who have been in management positions less than five years and who demonstrate a desire for future growth through contributions to their hospital or community. Voorman has been with Riverwalk Village since March 2022.
"We are very excited for Christopher," said Sue Lanza, executive director of Riverwalk Village, a life plan community that is part of the FellowshipLIFE system. "He has really made a difference in our food service program. He has brought quality changes that most importantly benefit our residents."
Voorman has a background as both a chef and a registered dietician. Since coming to Riverwalk Village, he has implemented and built new policies and procedures, opened a renovated dining room and a country store for residents, and created a food committee to help with menu development, including special needs for those residents with dietary restrictions. Voorman formerly worked as a chef at JFK University Medical Center, and he is also a board member for AHF's New Jersey Chapter.
"I am happy that the work and effort that went into the past year that I did to help Riverwalk Village get its new food service department rolling was noticed by this organization (AHF)," said Voorman. "We've been able to maximize what we can do at Riverwalk Village and have our program able to compare with those that have been established for years."
ALSO: LeadingAge New Jersey & Delaware Appoints FellowshipLIFE's Fandel to Board of Trustees
"The future is very bright here," he added. "We have a great team running operations that are all focused on improving the lives of our residents now, while making sure we are set up for success in the future. Our new parent organization, FellowshipLIFE, brings in a fresh perspective focused on creating innovative experiences to enrich and empower older adults that has been instrumental in helping us all achieve our vision and goals."
From its original community in Orange, New Jersey, to today's Riverwalk Village in Hackettstown, New Jersey, Riverwalk Village takes pride in continuing its legacy of service and care for over 140 years. Its offerings include independent living, assisted living, outpatient rehabilitation, and respite care.
FellowshipLIFE is a not-for-profit organization with four life plan communities in New Jersey offering services that focus on personalized wellness, an active lifestyle, and establishing new and lasting friendships. The company spans multiple aspects of senior living services, including independent living, supported living, home care, medical services, and wellness programs for those who live in its active older adult communities or reside in surrounding areas throughout New Jersey.
Credit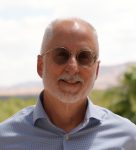 Jim Nelson
Editor
Jim Nelson is the Editor at Senior Living News, an online trade publication featuring curated news and exclusive feature stories on changes, trends, and thought leaders in the senior living industry. He has been a writer and editor for 30+ years, including several years as an editor and managing editor. Jim covers the senior living sector for SeniorLivingNews.com, distributes its e-newsletter, and moderates panel discussions for the company's HEALTHTAC events.