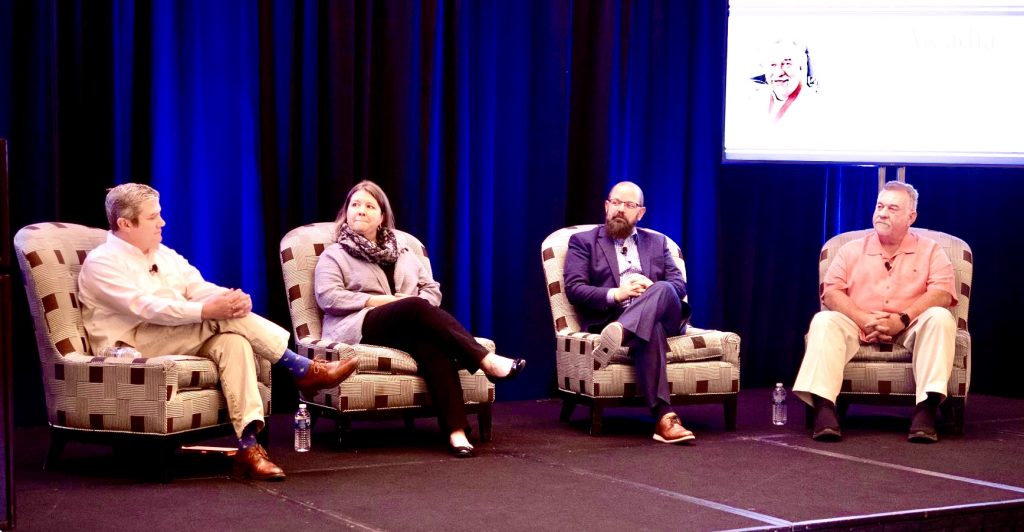 Senior Living Executives Weigh in on Multi-Generational Dining at HEALTHTAC F&B 2021
The panel "Who's Eating? Are Your Communities Cooking for Boomers and Beyond?," kicked off the first full day of HEALTHTAC Food & Beverage 2021 on Mon., Dec. 6. Speaking from a stage at Reunion Resort in Orlando, four executives from leading senior living communities discussed how their culinary operations are recognizing the importance of dining experiences that appeal to residents' multi-generational families and friends, as a means of encouraging visits as well as giving some thought to their own future retirements.
Healthy Menu Options
Ben Butler, vice president procurement and operations at Kendal, began the discussion by pointing out that, pre-Pandemic, Kendal's communities also invited staff to join residents for lunch in their dining rooms. Throughout the Pandemic and even now, staff are limited to order lunch for pick-up from the community kitchen using a QR code before returning to their workplace to eat. But along with some residents, they had a preference for vegan cuisine.
To meet that demand, Kendal formed a partnership with San Francisco's Greens restaurant, known for its vegetarian dining. Greens shared recipes and provided training –via Zoom—to Kendal's chefs throughout the Pandemic. "Now we have Greens-inspired offerings on all of our menus and that's really made a difference because of the techniques that Greens use as well as their approach to food and ethos," Butler explained.
When Kendal began purchasing hundreds of shares of produce from local Community Supported Agricultural (CSAs) programs, Greens further assisted by helping to create weekly menus based on the produce that Kendal received with each delivery. Butler added, "we're seeing more and more staff and residents –who we call 'Climatarian residents—who are vegetarians because they're worried about climate change and want us to use more locally sourced produce and food."
Messiah Lifeways is also working with CSAs, according to Kelli Mills, the organization's vice president of operations. However, this non-profit community has created a farmer's market experience for residents who can purchase the fresh fruit and vegetables to cook in their own homes.
Dining as Engagement
Pre-Pandemic, Messiah Lifeways' residents could spend two to three hours in community dining rooms, enjoying the experience created by restaurant design and elements like the ability for residents to "Bring Their Own Bottle" or "BYOB". "Offering these options allows residents to enjoy the social aspect of dining that we've seen them longing for and over the last five to seven years, we've seen that interest continue to grow," said Mills.
In addition to aesthetically pleasing restaurants, residents also enjoy one specific dining venue because a resident creates the weekly special menu in conjunction with the kitchen's chef. Residents submit a family recipe to the kitchen and when selected, that resident will spend a month working with the culinary team to create a special menu around that recipe. The special menu is available for a week and the feature item is attributed to that resident. Mills said that the resident becomes a superstar and that the program has gone over really well and is especially popular with residents who have lived on the campus for a long time. "It's been so popular on our campus because it shows that we recognize that residents still have a voice in their dining preferences," she said.
Striking a Balance Between Generational Preferences
Mather residents are also vocal about their dining preferences. But as the majority of residents are from the Silent Generation, they're pushing back on healthy menu options in favor of what Corporate Director, Culinary Operations Thad Parton described as heavy, protein-laden meals. "We do a lot of education through cooking demonstrations and by bringing in experts to try to educate our residents on better ways to eat, but …what we want, often doesn't align with what we want [for them] and we still need to satisfy residents who are paying the bills," said Parton.
Mather's plant-forward approach to menus may not be residents' first choice when selecting their meals, Parton did say that when their adult children and grandchildren come to visit, they opt for these healthier offerings. Parton added, "we're trying to prepare for the next generation of residents who will be living with us 20 years from now."
Still, Mather wants their current residents to dine within the community and has purposefully created restaurant experiences rather than dining rooms. "It's just a terminology difference, but it's also about the mindset," he said. "We want to compete with local restaurants, we want to be our residents' restaurant of choice and we want to drive intent to return, even through they live in the same building. We still want to earn their business every single day, every single meal."
Satisfying Micro-Regional Palates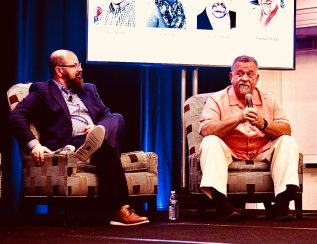 Likewise, Chef Michael Riggs, executive chef at Arcadia Senior Living Communities, is also focused on keeping residents consistently pleased with their dining experiences. But his residents have presented him with a hyper local challenge that has nothing to do with locally sourced food. Chef Mike called the issue "Campanilismo," an Italian term that refers to a person's attachment to the place where he or she grew up. Often, it manifests itself in how we define certain foods.
Chef Mike named cornbread as one example. Residents at the same Tennessee community can have vastly different ideas of how cornbread should be prepared because they don't originally hail from the same part of the state. He receives regular feedback from residents at Arcadia's Kentucky and Tennessee communities because individual residents have differing opinions on how cornbread should be served and prepared: as bread, as muffins or as flapjacks; sweet or savory; not too moist or not too dry.
Now Chef Mike and his team prepare every style of cornbread that various residents want and offer the different types of cornbread on a regular rotation. During those week's when sweet cornbread is on the menu, residents who prefer savory cornbread are told it will feature on the menu the following week and those who want flapjacks are promised them when barbecue is next on the menu.
"It's fun and I think it's a good challenge from a culinary perspective to do this," said Chef Mike.
Credit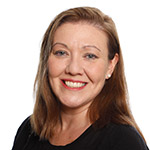 Kerry Medina
Senior Editor
Kerry Medina is Senior Editor of Senior Living News, parent company of Senior Community Forum. With a journalism degree from NYU, she has more than 20 years of experience as a journalist and content marketing professional, continuously focusing on B2B marketing and communications. In her current role, Kerry covers the senior living sector for SeniorLivingNews.com and SeniorCommunityForum.com and also moderates executive-led panel discussions at industry leading events.